As an optician, there is a lot of pressure on you to make sales in the dispensary. But, if the optical hand off is rocky it could be affecting your frame ordering sales numbers. There are many different methods for practices to go about the hand off, and each of them have the opportunity for success. It really depends on your team, your patients, and your workflow to determine what will work best for you.
If you are struggling with your optical hand off you could try implementing these different strategies across a few months and then look at the numbers to see if one technique outperformed the others. If your practice has a proven method for optical hand off success we'd love to hear more about it in our comment section.

How to Perfect Your Optical Hand Off and Increase Frame Ordering
The sales process in every eyecare practice begins as soon as a
patient walks in the door. While the opticians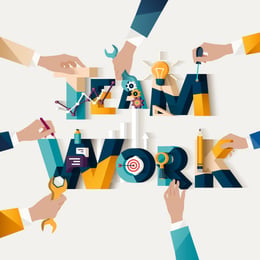 have the responsibility of closing sales at the end of a visit, every staff member in your workflow can help make recommendations and comments to encourage sales in your practice. Even more so, it's the OD's job to use their expertise to make product recommendations, and to communicate that plan to both the patient and optician to ensure that the patient is comfortable moving forward with their purchase.
If patients are just being dismissed as they leave the exam room, they're less likely to interact with your opticians to buy products in your dispensary.
A few ideas for the exam to optical hand off:
OD delivers the patient to the optician in the dispensary
OD brings the optician into the exam room for a consultation
Optician joins the OD for the full exam
Front desk delegates the hand off
Depending on your team and your schedule, one option might make more sense for you than the other. Or, you could practice each of these solutions on a per patient basis depending on the type of patient you're seeing.
As an optician, if you're joining the OD for a consultation in the exam room, a pager system or notification message within your practice management and EHR system can help ensure a smooth flow. Joining the OD in the exam room can create a more private environment for sharing patient information, and gives the patient time to address any questions or concerns with both the OD and optician at once.
No matter what option you implement in your practice you need a workflow that supports it. If your workflow isn't as efficient as it can be, it might be making your optical hand off even harder.
Download our workflow optimization eBook to see if you can improve any inefficiencies in your practice's workflow.
Editor's Note: This post was originally published on July 4th, 2016. It has been updated for relevance and richness of content on October 16th, 2018