If you have invested in, or are thinking about investing in practice management and EHR software for your eyecare practice, the system should come with all the bells and whistles that everyone in your practice can take advantage of to make your workflow run more smoothly. If you're stuck purchasing additional tools on top of your primary optical software you're going to end up creating breaks in your workflow as you switch between different tools, plus you'll be stretching your wallet to pay for additional software.
So when you're shopping for new practice management and EHR software be aware the added tools that come with the system could end up making a big difference on your workflow, and your wallet. We found three tools that we think are important to have as a part of your practice management and EHR software, not only because you won't have to purchase add ons, but also how they will help different team members throughout your workflow.
3 Important Optical Software Tools for Your Workflow
Frame Catalogs
Who it will help: Optician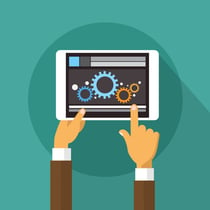 Managing your frame catalogs can be a big task. Software that comes with a direct connection to the Frames Data database will automatically update frame information into your system daily. You'll be able to view over 40,000 frame listings and get updated information on frame measurements and wholesale pricing. Your opticians can also use Frames Data Online and PriceSearch on Frames Data's website to browse for products that are not yet in your inventory. You'll be able to better serve your most picky patients to find frames that suit them by including frames you may not currently have in your catalogs.
Patient Recall
Who it will help: Front Desk
Keeping your schedule full is a critical component to practice success. But having your staff spend hours on the phone calling appointment reminders or reaching out to patients who haven't been to your office in a while, is time consuming. If you use a patient recall and reminder system that's built into your practice management and EHR you'll be able to send automated text and email reminders that keep your schedule full and your staff off the phone.
The system should generate appointment reminders based on settings and the time that has passed since a patient's last visit. You can also use recall tools to send follow up surveys and gather feedback on recent visits.
Patient Education
Who it will help: OD, Front Desk
Patients want to get more involved in their own healthcare. By providing patient education resources that allow the OD to share important information via video and audio aids, you're giving your patients what they need to get more engaged. In the exam room you can help your patients better understand their assessments, which will likely decrease post-appointment uncertainty - which includes a reduction in phone calls to your practice asking follow up questions. When built into your EHR, after a diagnosis is made educational material should automatically generate providing you with the information you need to share with your patients.
Looking for a practice management and EHR software that comes loaded with these tools?