Offering excellent patient care, medical guidance, and support policies is the first step to delighting the patients that have chosen your practice above others. However, we're sure you're wondering what methods you should take post-exam to convert first-time patients to lifelong customers.
Marketing isn't just necessary for gaining new patients, but also retaining your existing patients. All it takes to understand the motivations of eyecare patients is a little bit of patient persona organization mixed with savvy digital marketing techniques and supreme customer service. Let us show you our top 5 methods for getting patients to return to your practice below.
Try These 5 Patient Recall Strategies Today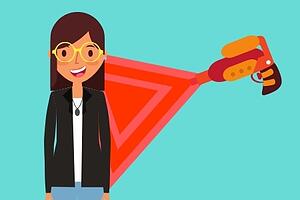 Recall Messages
Although your practice probably has a method in place to remind your patient that they're due for a regular eye exam, you should make sure these messages are digital. When you use an email service provider, text message notifications, or a tool like 4PatientCare, you can evaluate the success metrics of your methods because you'll know if a patient saw your message and followed-through.
Snail mail can be a good addition for patients who aren't as digitally-inclined, but your practice could be missing out on valuable data without digital messages that are embedded within your EHR or practice management software. Connecting your patient's medical history with their appointment history can do wonders for improving communication across your staff and improving transparency within your patient portal.
Social Media
In addition to direct reminders, social media can be an effective, indirect way to stay present in your patients' lives after their exams. Patients are most likely to return to practices they know and remember fondly.
Encourage patients to follow you on Facebook, Twitter, and Instagram by posting exclusive offers or information on your social media. Then, make sure you're consistently posting at least 2-3 times a week and engaging with your patients. Crafting a positive, bright voice on social media can reflect how you inject personality into a routine eyecare exam, too.
Sales
Next, holding a sale or trunk show can be a great way to attract patients to your practice. Plus, it gives you something enticing to post about on social media. Anything that will get your patients through the doors of your practice is helpful for growth, even if it's to buy frames or lenses. You can showcase new equipment and offer promotions on all exam appointments booked at the sale to everyone that attends.
Referral Programs
Initiating a referral program not only creates new patients, but also ensures your existing patients are more likely to stick with you. Your referral program could offer a cash or percentage discount on the patient's next exam, as well as a first-exam discount for all referrals.
Don't hesitate to get creative with your rewards. Offering free dilations for every 5 referrals, a year's supply of contact lens solution for 10 referrals, or other rewards that make multiple referrals more attractive is a good idea. Your partnerships with local eyecare professionals like ophthalmologists can also be part of your referral program.
Surveys
Investing in your patients' satisfaction shows excellent customer service outside of simply providing the best medical care. Why not ask your patients what they think is working well in your practice, where they think you can improve, and what they would like to see that you don't already offer. Keeping the questions open-ended may be daunting for most patients, because it takes more time to think of a written answer. However, creating a few multiple-choice post-exam surveys are a good idea if you already have ideas for new equipment, brands, marketing campaigns, and other practice changes you want to collect feedback on. Your patients will appreciate your dedication to their needs and opinions.
We hope one, or all five, of these methods can apply to your practice. Remember to keep your patient personas in mind when building marketing campaigns, because even successful campaigns don't work for all types of patients or practices.
---
Our embedded tools ebook helps you understand how a whole suite of tools, including patient recall, can strengthen your EHR & practice management software. Download it for free below.