Having patients return to your practice year after year is not only rewarding, but shows that your quality services and efficient practice management methods are paying off. If you're constantly improving the quality of your recall messages, texts, and other digital communications, you can increase your percentage of return patients and build a loyal patient base.
Maybe you've already taken our pointers for creating a killer patient recall message and now you want to see if your patients are indeed returning to your practice. We've got a few methods for analyzing, tracking, and building the success of your optometry practice's patient recall techniques below. Read on!
How do you know if your patient recall system is working?
Track Recall Results
Appointment reminders, surveys, efficient scheduling, and other patient engagement messages are only worthwhile if they're successful for your practice. But, how do you measure the success of your patient recall methods? Uprise is embedded with 4PatientCare's solutions to not only automate your recall processes, but also deliver you analytics to increase revenue by making campaigns more efficient.
Tracking the percentage of success for your e-mails, texts, and other automated recalls is crucial to implementing content refreshes, changing automation schedules, and reducing administrative efforts. Optimizing your messaging to fit your patients' response trends starts with looking at the results of your current recall methods in the analytics dashboard to monitor call-to-action click-through rates, e-mail open rates, and the best time to send messages.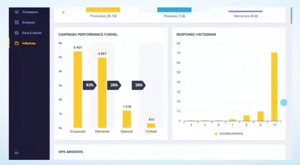 Utilize Smart Technology
Automating your patient recall process only requires an initial setup of e-mail or text message templates and significantly reduces the amount of work for your staff. If your practice management or EHR software already includes a patient recall tool like Uprise does, it eliminates guesswork on your part and time-consuming administration on your staff's part.
When embedded in your EHR or practice management solution, your recall messaging campaigns can sync with patient history, records, and trends to provide even richer insight into the demographics and data of patients who respond well to your campaign as well as those who don't respond at all. Also, smart technology learns the best time of day to send messages based on historical data so you can eliminate the possibility that your messages are getting buried in inboxes or possibly being ignored.
Use Data to Your Advantage
Insuring your messaging is focused, effective, and personalized are the first steps to successful patient recall. However, we hope we've convinced you that analyzing the data you receive from your recall campaigns is the important next step to understanding whether your current strategy needs to be tweaked.
To see how Uprise can harness the power of patient recall data, download our eBook below.