There are a wide range of skills and strategies involved in running a profitable dispensary - from customer service to sales to inventory management. We hear practices say all the time that they are looking for ways to improve and differentiate their dispensaries. So today we want to ask you to take a quick quiz to determine if you should download our most popular optical dispensing resource - 4 Weeks to Bigger Profits in Your Optical Dispensary.
Can Our Most Popular Optical Dispensing eBook Help Your Practice?
When was the last time you updated your frame displays?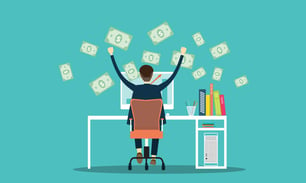 The way you display your frames could have a huge impact on the sales you make in your practice. Do you change up your displays to try and appeal to different trends, ages, seasons, and personalities? One chapter in the eBook is all about building attractive frame displays.
Do you know the biggest challenge patients face when purchasing frames?
In order to make more sales, you need to understand what your patients don't like about buying new frames. Is it the cost of the purchase, lack of time, or trouble making a decision on which frames to select?
Do you have a strategy for competing with online retailers?
Online retailers are probably stealing a percentage of sales from your practice. Places like Warby Parker are able to offer trendy frames on the cheap to your patients. What are your strategies for educating patients and proving the value of your expertise and quality products to help keep them in your dispensary?
Have you provided your opticians with the tools they need to be successful?
If processes in your dispensary are outdated it could be frustrating your opticians, or taking up more of their time that they could be spending with patients. Access to online ordering, frame catalogs, and an integrated practice management and EHR software are all tools that will benefit your team of opticians.
Are you keeping track of important sales benchmarks?
Monitoring your goals and specific benchmarks is a good way to determine what strategies are and aren't working in your dispensary. Keeping track of these metrics will make you aware of certain trends that lead to higher sales.
If you stuggled to answer these questions, or aren't confident in the way your practice is managing each of these ideas, we think this resource could really help give you a fresh perspective on new ideas for boosting sales in your dispensary.