Monitoring industry benchmarks in your practice is important in order to keep your profits rising, especially in your optical dispensary.
Your dispensary serves as one of the main points of revenue for your practice, and if you're unaware that it is underperforming then you could be missing out on the opportunity to increase your profits.
We want to show you how to calculate two important numbers from our benchmark eBook that are specific to your dispensary and how it is performing.
How to Calculate Your Optical Capture and Inventory Turn Rate
Your optical capture rate looks at how many patients received a prescription during their exam against how many people actually filled their prescription in your dispensary. This number can alert you to the fact that patients might be showrooming in your practice. To calculate your optical capture rate: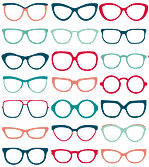 The industry benchmark for optical capture rate is right at 60%. So if your practice is falling below that mark, your dispensary could be suffering. To increase your optical capture rate, consider taking more time to fully explain prescriptions to patients, walking them through the dangers of purchasing unfitted frames online. You can also consider featuring promotions either through email or your practice website, and work hard to keep your inventory as unique as possible.
It's important to also remember that you should never assume that contact lens wearers and patients without a new prescription aren't interested in getting new frames; everyone could always use a back-up pair of glasses so don't make the assumption that a certain patient might not be interested. Another thing to avoid in your dispensary is overpricing frames; higher prices drive customers away from your practice and into the arms of online retailers.
The second benchmark that is important to your dispensary is your inventory turn rate. This number lets you know if your inventory is keeping up with you patients' needs. Basically, it tells you if you're keeping too many or too few frames in stock. To calculate inventory turn rate:

You can calculate your inventory turn rate on a yearly basis, quarterly, or even monthly depending on how detailed you'd like to get. Either way, a healthy dispensary will have an inventory turn rate between 3 and 4. If your rate is less than 3, you have slow moving inventory and could be overstocking your dispensary; more than 4 means that you are under-stocking your dispensary and you could look to increase your inventory.
While crunching the numbers may not be the most glamorous part of running your dispensary, it is one of the most important in order to ensure your dispensary's success. If you aren't already monitoring these rates, now is the time to start!
Want to learn more benchmarks to monitor in your eyecare practice? Download the full ebook below.
Editor's Note: This post was originally published on July 30, 2015. It has been updated for relevance and richness of content on May 7, 2019.