Your optical dispensary is one place your practice can show off some personality and establish a strong brand. Everything from the frames you carry to the tools you use to the decor you show off impacts your practice brand and what you represent to your patients. Chances are you won't be able to please every patient that walks through your doors. Which patients are you going to target and how are you going to boost your dispensary to be the number one shop for your target audience? Use these optical dispensing tips to make needed changes to your dispensary in 2016!
Optical Dispensing Tips to Take Your Optical Shop to the Next Level
Choose Frames Wisely
When choosing frames for your dispensary your options are endless! Are you trying to be a boutique carrying one of a kind frames to higher end patients, or are you targeting family and budget friendly frame lines? What frames have given you the most success in the past, and which lines are worth swapping out for something new? You need to ask yourself these questions and have a selection of frames that your opticians support and can sell to your patients with confidence.
Boost Your Numbers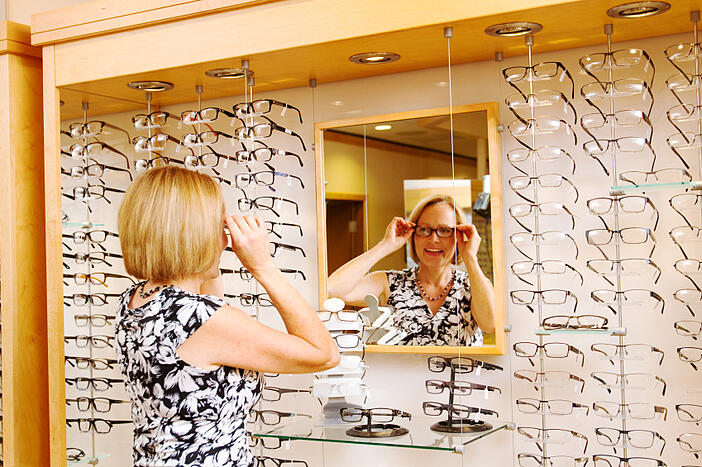 Monitoring important benchmarks is an important part of ensuring success in your dispensary. Paying attention to the numbers helps you understand what's working and what's not. Two metrics that we think are important in your dispensary are your optical capture rate and inventory turn rate. Find out how to calculate them here!
Streamline Purchases
Speed up the purchasing cycle by using an online ordering solution. Ordering your products online will help get jobs back 1-2 days quicker than orders placed over the phone or fax. Plus, an ordering solution allows you to track all of your orders from one spot so when your patients want an order update you can give it to them at the click of a mouse.
Establish Value
By now you understand the competition that your dispensary faces against online retailers. It's easier than ever for patients to walk out with their prescription and order frames online. So what can you do to get them to understand the value in purchasing from you?
Talk to your patients about the measurements and adjustments you provide so that their new frames are fit just for them. Plus, you and your staff can share expert knowledge on frames, lenses, coats, and tints that would be best for each patient's lifestyle. A simple graphic can also help explain the low costs of purchasing eyewear compared to other daily purchases.
Get Creative with Display
Think about the stores that you love to shop in. What about them makes you love browsing through their products? Take some time to sit down and think about how you can apply what you like about shopping in those stores to your dispensary. Is it the way they display the products, or maybe the lighting and decor on the walls? Some of the smallest things can make a big impact on the shopping experience. Get creative with your displays so that patients want to spend more time in your dispensary than your competition down the street.