We know you've worked long and hard to reach your prominent status in the eyecare industry. And now you have to keep it up! Eyecare practices need to keep up with patient demands, so we created a list of old optical dispensing habits opticians should not practice, and we're here to show you better methods to receive maximum efficiency for your practice before it's too late!

How to Use the Fax Machine
Remember when fax machines were the latest technology for sending documents? Well, that was quite a few years ago. With the latest technological gadgets today, fax machines are considered prehistoric and take a significant amount of your time to complete an order. Information sent through the fax may come through unclear, or you could have to deal with the hassle of deciphering illegible handwriting. Documents will have to be reprocessed if sent incorrectly, and you don't want to deal with unhappy customers who have their orders delayed. Also, if orders are sent when labs are closed, they are accumulated into a pile of other fax orders until the next business day, and who knows when your order will be processed.
Fax machines are outdated, and usually used as last resort. The hassle and time consuming efforts of ophthalmic product ordering can be reduced with a switch to VisionWeb's Ordering Solutions for Optical Dispensaries, a simple and faster method of ordering.
Calling in Patient Orders
You may not be faxing in your orders but is your practice still calling up multiple labs, or even visiting multiple websites? You could potentially waste an entire day on the phone, and it's time spent away from your patients. Phone calls are also restricted during open hours, hoping the person receiving the information will correctly document the entire order without any mistakes. Errors will often times result in delayed orders because of wrong information, which results in retyping the information into another system.
VisionWeb's online ordering is available 24/7 so you can place all of your orders at the most convenient time for you, and receive access to hundreds of labs so you don't have to visit multiple sites, or place multiple calls. Online submissions are the first to begin processing instead of orders buried in a stack of paper forms and voicemails.
Storing Records on Paper
Accessing your patient's information online is easy and saves the patient time in the waiting room. Also when patients ask about their order status, VisionWeb's online ordering service can track the order status instead of trying to reach the lab by phone, which can sometimes be a frustrating process, especially if your customer is waiting.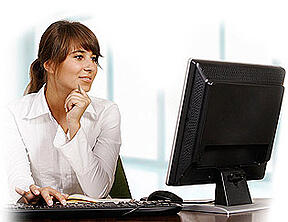 Duplicating Data Entry
So once you've entered in your patient's information for an appointment, now you have to re-key the data to get the orders placed either through the phone, or another online service. This method can take up a lot of time in your eyecare practice. Our online ordering solution can integrate with most practice management systems, which allows the system to store the original data entered and use the information again when creating, or submitting new orders. Not only does this save time, but it also reduces the chance for errors by making sure the data is accurate the first time it's entered into the database with automatic error checking features. All you need to get started with an online ordering solution is to register for a free account at VisionWeb.
So what's better than using the fax machine, picking up the phone to call the lab, or visiting multiple sites to place your orders? Online ordering gets your orders in faster with more accuracy, and it's easy to use! Check out some of the other features of online ordering:
Ability to place orders to more than 400 labs in one location
Online order status and tracking
Automatic error-checking
Lab-specific product catalogs
Save completed or partial orders to pending
Frames Data connection
Trace file uploading
Online ordering is quick and easy to use, and with this change, it won't be long until you become familiar with the full features of online ordering. Before you know it, you'll realize the faster turnaround time, and how efficient it is to use in your eyecare practice! You will probably wonder why you haven't switched earlier!

Now that you've unlearned the inefficient habits of optical dispensing, start ordering online, and see the difference for yourself!