We realize that many of you might have your reservations when it comes to keeping
your data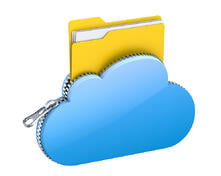 secure in the cloud. Especially when you hear about data breaches in the news, like the current Heartbleed situation.
In the past you might have been keeping your data safe in your office with a client-server solution, and you've been hiring out an IT consultant to help make sure that your system and data is as secure as possible. Well, what if your software vendor took care of that for you? That's what happens when you move your data to the cloud. Your vendor is responsible for the security and privacy of your data. So what is it exactly that makes cloud computing in optical more secure than keeping your data safe in your own practice?
Cloud Computing in Optical: Keeping Your Data Safe
How should you choose a vendor?
Any vendor that offers services in the cloud, lives and dies by their level of security. So choosing a vendor that's been around for a while and has experience and stability is going to help ensure that your data is secure. Another thing to consider when choosing a vendor is knowing what their plan would be if something were to happen to your connection or data. They should have a service-level agreement and a plan in place in the event of an incident. Knowing that the vendor has a recovery plan in place is going to allow you some piece of mind.
Where is your data actually being stored?
The cloud is an abstract thought to a lot of people, and it can be hard to understand where your data is actually being stored. Well, your data isn't actually floating around in the air, it's still being stored on servers at a facility. These facilities offer top of the line enterprise level security standards. High-end security includes things like environmental controls, security guards, security cameras, back up power supply, and authorized access which are just a few examples of things that cloud vendors are able to provide when it comes to physical security of your data. If you were to offer these same levels of security, storing data in your office would be quite expensive.
What about the data?
There are also a number of ways that your data can be protected on top of the physical protection that a top of the line facility can provide. There are measures put in place that keep your data secure from cyber threats as well. Data encryption protects the integrity and availability of data that is stored in the cloud, and it ensures that all of your data will remain confidential even if it falls into the wrong hands. Especially in health care, it's important to seek out a vendor who provides a high level of encryption security.
How do you access your data?
While one of the biggest benefits of using cloud computing is that you can access your data from any device with an Internet connection, but this also raises the question about the security of access. This is something to discuss with your vendor. How is identity and access monitored? Who has access to your data? Who can make changes to your system and data?
Long story short, your data will be safe in the cloud, and likely more safe than you could keep it in your own office. Just be aware of some of these different points about security that you should make a point to talk about with your software vendor when moving your data to the cloud. Once your vendor explains all of the details and securities they have in place to manage your data you'll rest assured that your data is safe and sound.
Want to learn more about cloud computing in optical? Check out our eBook!