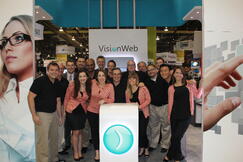 We're already half way through the year, which means Optometry's Meeting is right around the corner! If you're going to be in Philadelphia next week for the show, first and foremost, make sure you stop by VisionWeb's Booth #759 and check out a demo of Uprise, our cloud-based practice management and EHR software. And while you're in the booth make sure to stop by our photo booth for a fun picture with the rest of your office staff, or classmates. But after you're done getting your fix of optical resources at the show, make sure you give yourself some time to soak up the city! We put together a list of 8 things to keep you busy after show hours.
Optical Resources:
8 Things to Keep You Busy in Philadelphia
Liberty Bell
One of the main attractions in Philly, Liberty Bell is a 2,080 pound point of interest that you can find in Independence National Historical Park. The Bell is most notably known for the first public reading of the Declaration of Independence, but it was last heard in 1846, as it now has a crack making it unusable.
Philadelphia Museum of Art
The Philadelphia Museum of Art is one of the leading art museums in the country. You can find works from Matisse, Van Gogh, Picasso, Cezanne, and many others. The museum is open Tuesday - Sunday from 10:00am - 5:00pm, with the main building staying open until 8:45pm on Wednesday and Friday. Admission to the museum is $20 for adults, $14 for students and youth under 18, and kids 12 and under are free.
Please Touch Museum
Possibly one of the best children's museums in the country, you and your kids will be busy for hours. You'll find a variety of exhibits ranging from the Rainforest to Aviation to Alice in Wonderland to River Adventures, and more! Monday - Saturday hours are 9:00 - 5:00pm, and admission is $17 for both adults and children.
Philadelphia Zoo
Stop by the Philadelphia Zoo and check out the African Lion, critically endangered Amur Leopard, Asiatic Black Bear, Geoffroy's Marmoset, Giant Otters, and so many other animals! The zoo is open from 9:30am - 5:00pm. Admission costs are $20 for adults and $18 for children.
Franklin Institute Science Museum
The Franklin Institute Science Museum is a great place to explore things from physics to human anatomy to astronomy. The Franklin Institute is open daily from 9:30am - 5:00pm, and cost of admission is $18.50 for adults, and $14.50 for children under 11. Be sure to check out any live shows or traveling exhibits being shown!
Citizens Bank Park
Don't forget to catch a baseball game! The Philadelphia Phillies have a home schedule all week:
Tuesday, 6/24 vs. Marlins @ 7:05pm
Wednesday, 6/25 vs. Marlins @ 7:05pm
Thursday, 6/26 vs. Marlins @ 7:05pm
Friday, 6/27 vs. Braves @ 7:05
Saturday, 6/28 vs. Braves @ 2:05
Elfreth's Alley
Elfreth's Alley is America's oldest residential neighborhood, located between Front and 2nd Streets, just north of Arch. You can learn house-by-house stories of the alley's early residents from the 1720's - 1830's, through a guidebook located at the museum.
Dream Garden Glass Mosaic
Located in the lobby of the Curtis Publishing Building, and designed by Maxfield Parrish, you'll find the Dream Garden Glass Mosaic. Measuring 15 by 49 feet, Dream Garden was produced using over 100,000 pieces of favrile glass in 260 colors.
Want to be prepared to look for new practice management and EHR software while at the show? Download our eBook!