Choosing the right practice management software can be a challenge, but with the right advice we are confident you can find the perfect fit for your practice. Together, with Steve Sunder, VisionWeb's Director of Sales - Provider Channels, we have provided you with the inside scoop on optometry practice management software. Let's get to know a little more about Steve and his thoughts on optometry practice management software, electronic health records, and Uprise, VisionWeb's new practice management and EHR solution.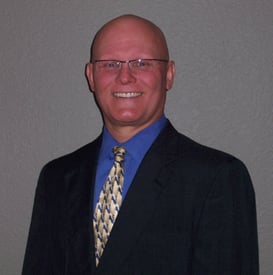 1. What is your role at VisionWeb?
I'm the Director of Sales - Provider Channels. I have responsibility for direct sales of VisionWeb products directly to the ECP. In particular, Uprise, our cloud-based practice management and EHR solution.
2. How does utilizing optometry practice management software and EHR's in a practice affect productivity?
Adoption and implementation with dedicated use of a PM/EHR improves staff and doctor productivity in a variety of ways:
Clear and concise exam documentation with proper visit coding
Reduced claim denials from proper coding
Improved payment processing via electronic remittance advice ERA
Real-time online lab ordering and order tracking through VisionWeb
Ability to view current and future appointments
No chart preparation
Electronic patient recalls with patient interaction
3. There are many choices when choosing an optometry practice management system. How does a practice know they are choosing the right one?
During our sales process, we take a consultative approach asking questions about their clinic, patient base, locations, type of practice modality, what system they are currently using, diagnostic equipment they have or plan to purchase, etc. Answers to these questions help us determine which system is right for their practice.
4. What are the biggest benefits of using a cloud-based practice management and EHR solution?
Benefits of cloud services are the real-time system updates and data backup, reduced hardware acquisition costs, and improved efficiencies compared to client-server systems. CD's are a thing of the past.
5. You recently launched Uprise, how does one successfully sell a new product?
Marketing has done a wonderful job creating and generating the leads for sales to contact. We discuss the value of VisionWeb providing cloud-based services to the eye care industry since 2001 with 17,000 clients. Then we demonstrate Uprise where people can see firsthand how simple, intuitive, and user-friendly the system is. This is a great driving experience where users can see how Uprise is a solution to their current pain points.
6. What are the biggest challenges you face as a Director of Sales?
Uprise is a new product rather than a service that VisionWeb has historically provided. Once we take the prospect through the driving experience, they realize why they need Uprise.
7. What tips would you give someone who is new to using EHR?
This can be difficult for a doctor who has never entered into the electronic world of EHR. We first set the expectation that the system has been designed by your colleagues so that your transition is simple and less time consuming than with legacy systems. When they participate in the driving experience of Uprise they come away with the understanding this system is designed to help them, not hinder them.
8. If a practice was thinking of switching to a new EHR and was still hesitant, what would you tell them?
Taking that consultative approach knowing which legacy system they are currently using, I know their pain points. During the driving experience, I show them how Uprise solves those pain points. During my demos I've had comments from doctor's who say, "I see why I must switch to Uprise."
Now you know a little about Steve and his thoughts on optometry practice management software. Now it's time to check it out for yourself!
See how VisionWeb's new Practice Management and EHR Solution, Uprise, can improve your practice.