We've spent a lot of time lately talking about how to hire the right employee, what to look for, and interview questions to ask. But, how do you keep a great employee from leaving?
With the convenience of websites like Monster and Indeed and salary transparency of Glassdoor, people are switching jobs and careers more often. Hubspot put out an article explaining why many employees quit and what you can do to prevent it. We thought this would be valuable information to share with eyecare practices as we know it can be hard to find and hang on to your best employees.
Don't Lose Your Best Eyecare Employees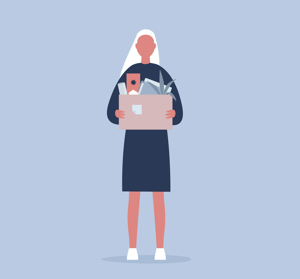 The Job Just Isn't What They Thought
A lot of time we talk about looking at personality and practice fit rather than just experience. If the candidate has no experience, they might not have realistic expectations for what their new job will consist of on a daily basis.
Solution: Be as honest as possible in the job description and the interview process. You're going to waste more time and money hiring someone with the wrong expectations then you would if you provide the right expectations from the start and wait for the right person. If you are eager to hire a great candidate with little experience, you could offer them to come onsite and "shadow" the offie for a few hours so that they gain a better understanding of what to expect.
Lack of Support and Appreciation
In Hubspot's article they shared that 39% of employees report feeling under-appreciated at work. Of 30-44 year old employees, 80% found it considerably annoying or a deal breaker when their boss doesn't trust or empower them. Different people are motivated by different things. Some people like recognition among their peers, while others like more private recognition.
Solution: Make sure that you're giving your staff power and control over their responsibilities. Your staff should be comfortable expressing their opinions, challenging each other, sharing information, and providing support to one another.
You can also set individual and team goals for certain benchmarks in your practice. This ensures that everyone is more accountable for the work that they do towards achieving a certain goal. Once your team reaches that goal, make sure they are recognized and rewarded for it.
Frustrations with Work-Life Balance, Salary, and Career Advancement
In a small, independent eyecare practice things like work-life balance, salary, and career advancement can be difficult areas to fulfill. Since your staff's schedule is dependent on your patient schedule, it's harder to be flexible with time off. When it comes to employee salary, it can sometimes be hard to stay competitive in a small business.
Solution: A way to help create more employee perks and better work-life balance could be something as small as a paid afternoon off for the "employee of the month" or for an employee who hit a reach goal. (Tip: if you cross train your employees throughout the office it will be easier to accommodate time off)
In terms of pay and career advancement, perform yearly reviews with your team that could lead to salary increases each year. This will help make your employees feel more valued and motivated to perform well throughout the year. Remember, the cost of staff turnover is more expensive than paying your employees a little more to keep them happy.
Lynda.com released an infographic that shows what it is that keeps people happy on the job. The three big areas of focus are autonomy, purpose, and mastery.
---
We compiled a few top staff management tips into a free, easy-to-read ebook.
Editor's Note: This post was originally published on October 2015. It has been updated for relevance and richness of content on January 2020.