As a solo optometric practice owner, you juggle many jobs throughout the day; from CEO, to doctor, to manager, to marketer, to salesperson. But, outside of work, you also have responsibilities to yourself, your friends, and your family. As a parent, friend, sibling, or spouse, you have to focus your time and energy on managing those relationships and ensuring that at the end of the day, you're achieving an optimized work-life balance.
To help you make the most out of the time at the office, we put some put some time management tips together.
Optometric Practice Tips for Achieving a Work-life Balance
1. Optimize Your Patient Schedule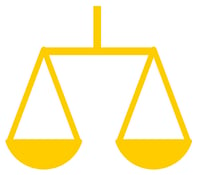 One of the root causes of an unstable work-life balance is having a chaotic patient schedule. If your patient schedule isn't optimized, then a small snag in your day could throw off your entire schedule. This obstacle could cause you to take work home, work later hours than needed, or cause costly errors as you try to make up ground.
To optimize your patient-scheduling habits, consider clustering appointments by exam type.
2. Take Short Breaks
Moving from patient-to-patient all day can lead to documentation errors and burn-out. As you work to optimize your schedule, be sure to factor in time to take short breaks. Taking short 5-minute breaks between clustered exam blocks will help you regroup and come back rejuvenated and focused on the next round of patients.
Some ways you can break-up your day include:
Taking a short walk
Sitting quietly in your office for a few minutes
Reading a non-practice related news article
3. Unplug
It may be difficult, but being able to disconnect from work at the end of the day will not only give you more time to focus on the things that matter in your personal life, but it can also reduce stress and help you remain more productive at work.
As an OD, it might be hard to unplug, but setting simple rules such as turning off work email notifications until a particular time will relieve stress and target your focus and energy on your personal life, not your optometric practice.
4. Eliminate Time-consuming Tasks
There may be tasks that are required, but you may not need to be the one performing the job. Look at all of the tasks that are required for you to manage your optometric practice, your patient workflow, and patient experience. Is there repetitive and time-consuming administrative work that you can hand off or automate? If so, either find a way to automate them or delegate them to staff members.
Are you ready to streamline your practice workflow to help create a work-life balance? Download this ebook and learn how to optimize your workflow with optometry software
Originally Published in November 2016