The performance of your office workflow affects your entire practice. However, outdated strategies have stalled many optometric practices' ability to streamline the office workflow. Understanding the duration of your workflow and the steps involved in getting the patient from check-in to check-out will help you identify how you can improve your practice to earn more money, and see more patients without decreasing the quality of care.
To improve your practice workflow to see more patients, you must measure your practice's ability to meet the industry benchmark of 45-minute exams and then identify the constraints that are keeping you from hitting this time.
Below are tips on how your practice can fix your office workflow.
How To Improve Your Office Workflow
Identify Office Workflow Constraints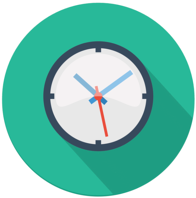 When it comes to identifying potential workflow constraints, one of the most effective ways to identify workflow issues is to time out the patient journey from check-in, to check-out. As you work through your office workflow, use the "Workflow Kit," found in the Optimizing Your Workflow with Optometry Software ebook to document how long it takes a patient to move through each stage.
Common constraints are usually hiding in plain sight. Office practices that were standard only a few years ago have been replaced by technology to increase efficiency and reduce errors. Common office workflow constraints include:
Scheduling appointments over the phone
Manually entering patient data
Switching between multiple software programs
Calling pharmacies
Avoid Workflow Constraints
To reduce inefficiencies throughout your practice and move patients through the office workflow without decreasing the quality of care, your practice needs to increase communication, automate time-consuming processes, and use the right software solution.
Increase Communication: Proper communication between your patients and your staff is vital. Whether you're handing off your patient to the next stage of the appointment or referring them to a specialist use online communication tools to reduce errors and increase efficiency.
Automate Tasks: There are many manual, error-prone tasks in your practice than can hold up your patient workflow. Many of these tasks can be easily automated to reduce errors, duplicated work, and improve efficiency.
Use Software: Modern technology has quickly changed patient habits and the eyecare industry. Using an all in one EHR and Practice Management solution, your practice can help you increase communication between staff members and your patients while giving you access to the tools you need to effectively administer care.
For more information on how you can improve you office workflow, download the ebook, Optimizing Your Workflow with Optometry Software.