With the new year now in full swing, it's time to stop the party and start thinking about how you will actually accomplish the changes and resolutions you set forth in 2015. Vision Monday's microsite, The Intelligent Office, features articles about different ways eye care providers are utilizing the newest technologies in their practice to become "connected" practices, internally and externally. They cover topics that are important to optometrists like practice management software, office equipment, patient flow, among many other topics. The Intelligent Office will help you stay updated on new technology and keep you one step ahead of the competition through education. So take a minute and learn how The Intelligent Office can help you and your practice become more prepared for the year ahead!
The Intelligent Office covers a wide range of topics breaking them down into categories based on your workflow. These topics include outside the office, waiting room, exam lane, dispensary, and practice systems.
Optical Practice Management Lessons from The Intelligent Office
Outside the Office
In order to better service patients, practices are now integrating information onto mobile platforms and social media for convenience to customers, as well as for future reference. This online integration is vital because modern patients expect their care to not stop the moment they leave your office. The Intelligent Office strives to provide information on the newest outside the office technologies that will help you integrate and develop your own strategy that best fits your practice, to keep more patients coming in your door. Learn more by reading, Keeping Schedules Full in Practices with Multiple Doctors and Locations.
Waiting Roo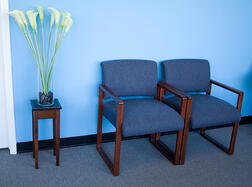 m
Providing a convenient and comfortable waiting room experience is a major factor in patient retention for your practice. You should provide an inviting environment from the beginning of their experience in your office, and consistently strive for high satisfaction from your patients. The Intelligent Office has the resources to help you maintain a modern waiting room! Check out, App Snaps: Waiting Room, to learn about featured apps and information you can offer your patients while they wait.
Exam Lane
When it comes to exam time, patients generally expect your practice to have the newest technology, as well as the knowledge to expertly utilize this technology. This can be hard to keep up with and can hurt customer satisfaction if not properly addressed. The Intelligent Office helps by offering insight into how you can simplify your exam process. The Intelligent Office offers information on EHR's, diagnostic instruments, and patient consultation in order to make your practice more efficient than ever! If you're in the market for new EHR software check out the article, Advice to Follow When Shopping for EHR Software.
Dispensary
In the competitive optical dispensary market, most patients expect to be informed about the latest and best lens and frame products available. If you aren't properly prepared and educated on the market, patients are likely to go somewhere else to learn about and purchase their products. Fight back against the digital fitting systems popping up everywhere by exploring multi-functional dispensing system information. Educating your practice on these systems can help connect you to labs more efficiently and manage your inventory better. If you want to beef up the offerings in your dispensary take a look at the iMirror App by Silhouette.
Practice Systems
Current practice management systems make it simple to streamline many of the processes in your practice. The Intelligent Office offers insight into how an efficient practice management system can manage and organize the large amounts of information your practice receives daily, as well as what technology is available for your practice. Get information about ICD-10 training with this Intelligent Office article.
For more information on how to stay updated on the newest optical technology and trends, subscribe to the VisionWeb blog.