No matter what industry you work in, there are countless reasons and tips published online for no longer relying on paper in your office. In addition to being eco-friendly, going digital is efficient for finding and accessing information and reducing filing or administrative headache for your staff.
However, a handful of practices are stuck using paper because of their fear of change. While this is a reasonable fear, the benefits of switching to an Electronic Health Record system far outweigh the comfort of sticking with what you know. Let's go over the first three steps to feeling less scared about switching.
How to Overcome Fears of a Paperless EHR Practice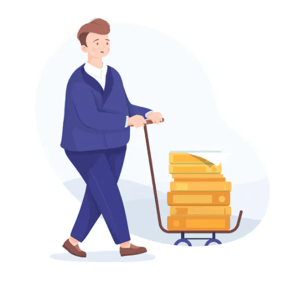 Be Informed
The first step is knowledge. Find out the true cost of keeping your patient data, paper intake forms, and dispensary information on paper. This means adding up the cost of printers, ink, paper, storage, and maintenance of those tools. Don't forget to factor in reprinting and the cost of time it takes to service patients who might call or revisit when they displace their prescriptions or information. Once you have the both the monthly and annual cost, you can compare it to the cost of an EHR software.
Don't Forget Scale
Before you finish your financial analysis, consider how exam time affects your bottom line. On average, working with EHR software leads to shorter exam times because everyone in the practice is using less time filling forms, including patients and ODs. This means you can see more patients in one day. Listen to Dr. Nafey discuss how this reflects in his workflow here. Using less time and effort managing paper documents allows you to scale your patient base and even go further into the medical side of care. Also, if you eventually sell your practice, you'll be able to value it higher if your patient data is organized and accessible digitally because the new owners just need an EHR login rather than stacks of papers they have to sort through.
Talk to Colleagues
If the financial benefits aren't quelling your fears, start by reading Dr. Halpin's story about going paperless. We also encourage that you reach out to friends and other ODs who work in paperless practices. Ask them why they decided to switch, how their staff adjusted, what benefits they've experienced, what mistakes they learned from, and get the true story of how their practice is doing. We're confident that the responses will make you feel like going paperless is the best decision.