Sprucing up your practice usually requires a bit of spending. You could be searching for new decor, upgrading your technology, or keeping up with retail trends. You should be able to make small, impactful updates to your practice without exceeding your budget.
The following product, design, or management tools will automatically upgrade your practice for no more than $75. We think some of these can improve your efficiency, hand-off processes, and overall staff motivation.
Transform Your Eyecare Practice with $75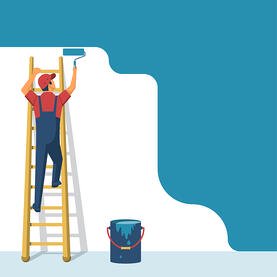 Paint or
Re-upholstery
Painting is possibly the simplest way to change the design of your office, but it also provides a fresh feel to invigorate your staff and patients. If a patient sees chipped, drab paint on the walls and chairs with rips, they might think you're not investing a high degree of care into your patients and products either. A new coat of paint ($40.99) on your walls or door ($21.02) and new fabric for the well-worn chairs in your dispensary can make a difference in the perceived value of your services.
Purchasing a tall shelf ($27.82) is usually less than $75 from big box stores, but you can even buy space-saving floating shelves ($27.99) or tiered table toppers ($14.68) to display your frames. These geometric risers ($20.10) can also add a bit of intrigue to your tabletop displays if they go along with your aesthetic preferences.
Providing a comfortable armchair ($49.90) can make a big difference for walk-in patients who might have to wait up to an hour. Especially during summer vacation, a kids' table ($71.50) comes in handy for both parents and kids getting their eyes checked. If you want an area for your staff or customers to take a break or a phone call, an outdoor bistro-style table and chairs ($74.99) can work wonders. Placing any of these seating options near windows is a good idea to create a welcoming environment for people passing by.
Mirrors
Our final suggestion may seem obvious, but your practice should have a minimum of 2 mirrors in each exam room and about 7-10 in your dispensary. A light-up full length mirror ($62.95) can help your customers visualize how new frames would complement their overall look. Meanwhile, tabletop light-up mirrors ($25.97) are invaluable for first-time contact lens fittings and opticians. If you're looking to create a collage of mirrors on the wall, we recommend this set of 7 round mirrors ($18.95) or these hexagonal stick-on mirrors ($10.99) for something different and customizable.
Looking for other ways to spruce up your practice? Subscribe to our blog for actionable tips & tricks.