In the eyecare industry, thinking of new ways to increase profits and generate new patients can be difficult. For those optical practices looking to grow their business, but don't know where to start, the path to business growth usually starts with setting long-term goals, supporting successful staff members, and leveraging technology and resources effectively.
This post explores four areas your practice can focus on to influence practice growth.
4 Tips to Improve Your Optical Practice Growth
Build an Online Presence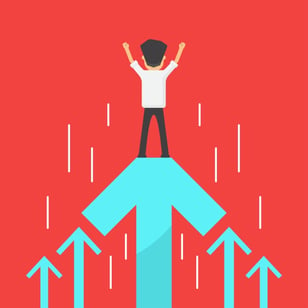 The internet is a powerful thing. I shouldn't have to tell you that if you're not using the internet to its fullest potential, then you're missing opportunities to delight your patients and attract new business.
If you haven't put a lot of focus into your online presence, here a few places to start:
Give your website a refresh - If it's been a while since you've updated your website, it might be time to step up your eyecare practice's website game

.

Enhance your web reputation - Managing your practice's online reputation can help you identify your practice's strengths and weaknesses. Examine your online reviews and respond to the good and bad reviews with respect.
Offer web-based scheduling - Offering web-based scheduling benefits your practice by giving your patients the ability to schedule appointments on their own time, giving your front office more time for in-office
patients.
Think Long-term
Your long-term business ideas and goals can have an impact on how your practice currently performs. If you're not steering your practice towards the future, then you can't successfully grow.
Here are three big business ideas for your optical practice:
Assess location - Location truly is everything. If your established practice is running short on space, it might be time to make new additions. Or, you can convert patient file rooms and in-house servers into new offices by switching to a cloud-based EHR and practice management solution.
Invest In your business - Your practice can't grow if you don't invest in it. Think of strategic investments you can make to add or improve services, enhance employee engagement, or make the office more comfortable for your patients.
Distribute educational material - Whether you create your own, or leverage other digital patient education material, your practice will begin to build a reputation as a thought leader in your community.
Optimize Your Resources
Stocking for quality, maximizing technology, and recording metrics can help your office run more smoothly and identify key areas for opportunity. With proper training and education, you can take advantage of your technology and sell quality frames to your patients.
Here's how you can begin to optimize your practice's resources:
Stock for quality - Stocking your frame displays with cheaply manufactured frames may help you compete with online retailers' price points, but stocking cheap frames can reflect poorly on your practice's image. Have an inventory of quality frames and educate your patients on the benefit of quality over cost.
Maximize technology - Spend time training your staff on the ways to utilize your technology efficiently and stay up-to-date with advancing technology that can improve your workflow, or set you apart from other eyecare professionals.
Record metrics - How does your practice stack up against industry standards? Keeping a pulse on various metrics will let you know if your practice is hitting important benchmarks

,

and will give you insight into areas of improvement.
Enhance Talent
Your staff is a vital element to your practice. They are the people your patients interact with the most, often even before you have the opportunity to meet them. By evaluating your staff, picking a partner, and hiring an office manager, you can optimize your staff management and build a team your patients look forward to seeing.
Here are a few ways to enhance your staff:
Create a staff of superstars - Having a team that just gets the job done isn't going to help your business grow. Hire staff that are a good fit with your practice and reward the superstars.
Pick your partner carefully - Partnering with another OD is a great way to distribute workload and add new skills to your practice. Look for a partner that aligns with your practice goals and culture, and contributes new ideas and skill sets.
Leverage an Office Manager - An office manager takes the focus and upkeep of office work off the OD's shoulders and allows them to spend more energy on their patients. Similar to picking the perfect business partner, find an office manager that is a good culture fit and contributes new ideas. You want this person to be on top of your practices' day-to-day processes.
In order for your optical practice to grow, increase profits, and generate new patients, you have to be creative and think of new ideas that will set you apart from your competition. This can be a challenge for busy ODs. Putting your focus on building strong goals, supportive staff members, and leveraging technology and resources effectively can influence your practice's growth.
---
Want more tips for growing your optical practice?
Check out our 4 Week Practice Guide to Bigger Profits!
Editor's Note: This post was originally published on August 16, 2016. It has been updated for relevance and richness of content on September 10, 2019.