In order to keep up with the ever-changing eyecare landscape, doctors are required to continuously educate themselves on new medical findings and news. But, shouldn't your practice be able to constantly improve through the same methods?
Once your practice has established a rhythm and routine, inefficiencies and areas for improvement become clear. However, it's the job of the OD and office manager to make the entire staff aware of the practice's weaknesses and draw up a game plan to tackle issues.
Learning, whether that be in the form of courses or training, is the key to an optometry practice that meets its annual growth goals. Keep reading to see how you can jumpstart your practice's growth today.
Ongoing Training Ideas for Your Optical Staff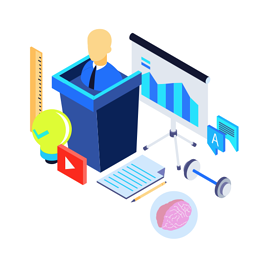 There are many ways you can make sure your staff is constantly learning new skills and building upon their existing strengths. Here are a few areas of focus:
Sales Enablement
Although your practice doesn't have a dedicated sales team, the entire staff should be effectively promoting dispensary sales. However, it's important to train your opticians and front desk staff on your range of products, use cases, patients, and sales messaging every quarter. Keep a running Google doc of common customer objections, product requests, and other sales notes that your entire staff can add to throughout the quarter. Then, hold a "sales meeting" where you review existing processes and optimize to include the necessary updates after brainstorming new techniques as a team. Not only does this create a more cohesive sales strategy, but it also bonds your staff to the success of your practice.
Cross Training
If you're not already training employees on responsibilities outside of their job description, there are a few reasons you should. In the case of last-minute emergencies, busy periods, and sick leave, it's useful to make sure your practice can function when under-staffed. Cross-training can also help develop your staff's individual skills and boost career growth within your practice, which improves retention. Finally, your patients may ask your front desk questions about their diagnosis or billing, so you want to make sure they have a baseline knowledge in order to provide the best patient care. Enroll your employees in online courses through the AOA, assign them industry ebooks to read, and give them the opportunity to shadow each other. Overall, you'll feel more prepared when a staff member is absent.
Efficient Task Management
Although there isn't much down time during work hours, there might be lulls between exams where your employees find themselves unable to determine which administrative task requires their attention. When it comes to ordering supplies, taking inventory, quickly tidying the office between visitors, or other shared duties, every employee could have their tasks assigned within your practice management system to avoid confusion. Therefore, your schedule doesn't run behind because of something small while patients are waiting to be seen.
Feedback Loop
In order to find out if your extra training and growth efforts are working, conduct a patient survey using your patient recall emails before and after any major workflow or practice changes. Then, compare the quantifiable results in a graph or statistical analysis software to determine whether your changes made a significant difference in patient satisfaction. Always include a "comments" section on your patient feedback forms to allow for important, unstructured insight. You never know what you might have missed.
Want other ideas on improving your practice and work-life balance? Check out tips from America's Top ODs.