The front desk sets the pace of your eyecare practice's workflow. When the goal is to see as many patients as you can without affecting quality patient service, your front desk needs to streamline their processes to get each patient through the workflow efficiently. Unfortunately, traditional workflow practices and paper-based recording methods are impeding your practice's ability to take your patient through the front desk stage of the workflow efficiently.
Uprise has the tools to help you better manage time at the front desk. Utilizing its best features and embedded tools, Uprise can streamline the front desk stage of your practice's workflow.
In this post, we breakdown the Uprise workflow and demonstrate how its patient portal and scheduling tools can enhance your ability to streamline the office workflow.
Improving Office Workflow at Your Front Desk with Uprise
Patient Portal
In many traditional workflows, the check-in step wastes a lot time between checking insurance coverage, entering patient information, and copying forms. You can speed up the process by giving your patients access to the forms that they need to fill out ahead of time and encouraging them to complete everything ahead of their appointment.
Click here to see a video of our latest portal updates
The Uprise patient portal gives you the ability to upload customized forms and documents to let your patients read, complete, and manage their healthcare records before and after their appointment. Uprise then imports the information directly into your EHR so your team doesn't waste time on data entry.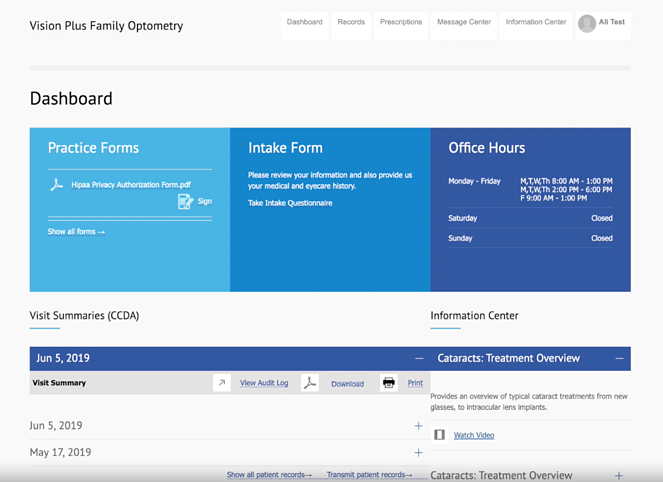 Scheduling Tools
Relying on spreadsheets, appointment books, or separate scheduling software to manage your schedule can cause gaps in your workflow. The scheduling tool within Uprise gives you different views to manage your practice's calendar. The views make it easy for you to quickly schedule or modify appointments, check in patients, verify insurance eligibility, and record accurate new patient appointment information on the fly.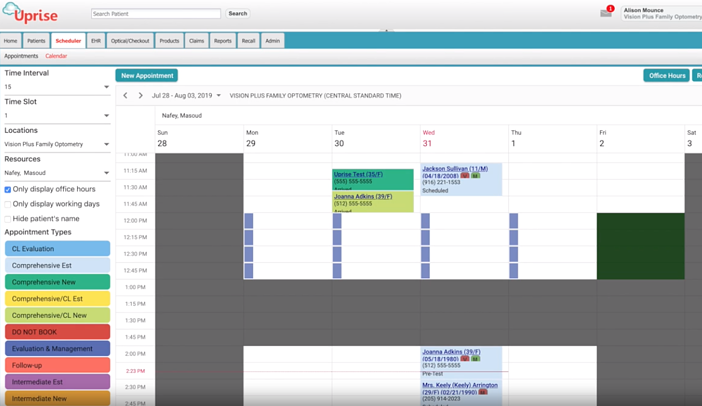 Click here to see a video of our latest scheduler updates
Appointment View - The appointment view is a great view for confirming appointments and checking in patients. You can customize the list display to show the information you need to efficiently check patients in and manage the day.

Calendar View – The calendar view makes it easy to manage appointment times and schedule new appointments. With quick glance identification indicators, you can see the appointment type, insurance confirmation, and contact information for easy management.
Status Drop-down
Using the status drop-down button, you'll know exactly where each patient is in the office to reduce workflow bottlenecks.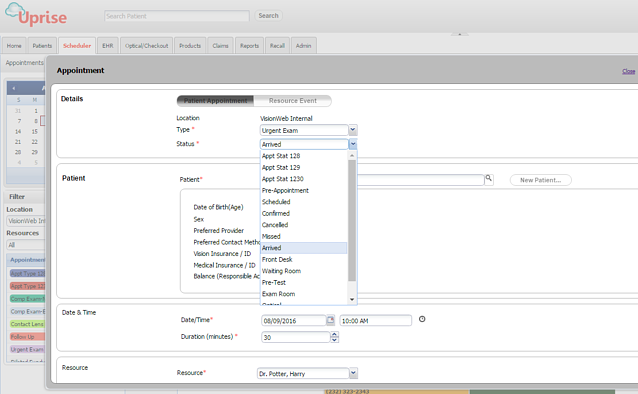 Internal Messaging
Communicate with the rest of the staff without ever leaving the front desk. Using the internal messaging system, the front desk can notify the technician that a particular patient is ready for the next stage of the workflow, or add any other information that is vital to ensuring the patient receives the best care available.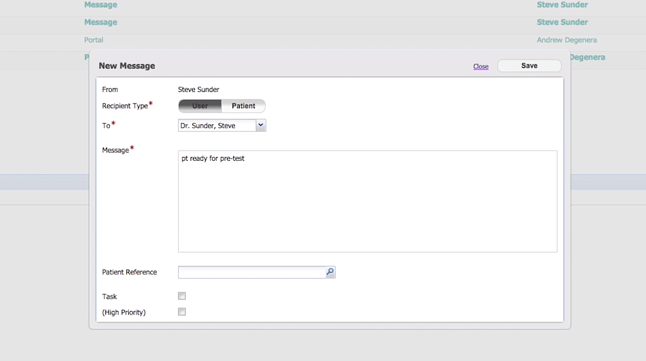 Your front desk sets the pace for your patient's visit. Using clunky or outdated practices can increase your patient visit time and reduce the number of patients that you can see in a single day. Using a comprehensive, cloud-based practice management and EHR solution, like Uprise, can enhance your ability to streamline the office workflow.
---
Want to see how Uprise can streamline your patient portal? Then watch this short video!
Editor's Note: This post was originally published on August 2016. It has been updated for relevance and richness of content in October 2019.