When it comes to surveys, there's a fine balance between collecting valuable, deep information from your optometry patients and overwhelming them with requests. If you send them too many emails, the most important patient recall reminders will get lost in the noise.
However, we think we've figured out the right formula for how many surveys, questions, and review requests you can send your patients. We've discussed how post-exam surveys can improve your ranking on Google, help increase your reviews, and give you insight into what's working well and what isn't. We've even gone over some of the best questions to ask in patient surveys, but how do you go about collecting these responses? And how do you strategize making a survey? Read on for more information.

Build a Balanced Patient Survey Strategy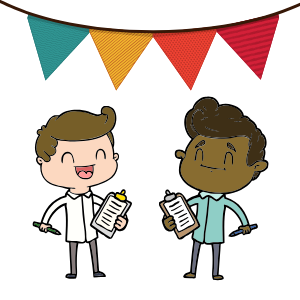 Questions
Whether your survey is post-exam, post-purchase, or pre-exam, you should cap your survey at 3 questions. This is the sweet spot between a long survey that patients won't have the time for and a short survey that won't provide as much value to you.
The actual questions you ask will differ based on what you want to learn from the survey. Therefore, you might want to write out your goals first before you draft the survey.
If you want to know how satisfied your patients are, here are a few example questions:
How satisfied are you with your visit?

How likely are you to return to our practice?

How do you rate your overall experience?
If you're more interested in specific improvements your practice could make, we suggest these:
What did you enjoy most about your visit? (open-ended or Pick 2)

Quick check-in
Thorough exam
Friendly, communicative staff
Clean, updated equipment
Wide selection of frames
Straightforward, affordable cost
Other

What could we do to improve your visit? (open-ended)
If you want to promote word-of-mouth or solicit reviews, these are natural lead-ins:
How likely are you to recommend us to family and friends?

How likely are you to refer a friend?

Would you be willing to rate us on Google, Yelp, or Zocdoc?
Incentives
If you're providing incentive, you can ask more questions in a full survey like the one we've detailed in this blog post. Generally, incentivizing isn't necessary if you're sending out a single question or even 3 question survey. However, offering a coupon, discount, or raffle ticket for a bigger prize can be beneficial if you need reviews, have a small patient base, or have a longer survey.
Our suggestion for incentives is to keep them small at first. Based on the success of smaller incentives, you can decide whether you want to increase the stakes. If your software or email client allows, you can even A/B test your recall. However, always keep your budget in mind.
Reviews
Depending on the patient recall system you're using, you can generate online reviews after your survey questions. For example, you can send a text to all your patients after their exam asking them to give you a quick review and provide a link to your Google My Business page, Yelp page, or website.
Some systems are even more sophisticated and allow you to send a text that simply asks one question such as "How satisfied were you with your visit?". If the response is positive, only then will the system solicit an online review request from the patient. Therefore, we recommend shopping around for a recall system that allows you to tie-in online reviews. Be strategic when sending out review requests, because both Google and Yelp have strict rules when they suspect review solicitation.
Subscribe to our blog for more expert advice. You can decide how frequently you'd like to receive our updates.