Google reviews are the first, and sometimes the only, reviews people see on a local Google search or within the Google Maps app when they are looking for an eye doctor. These reviews also affect your search rankings, for better or for worse.
As a small business owner, you're probably searching for methods to get more positive reviews. Essentially, you have to ask your patients, which means delegating and engaging your team members in the best position to see it through.
Enjoy the following expert advice on gaining genuine reviews from our favorite eyecare marketing experts, EyeCarePro.
Guest Blog: The Secret to Getting Reviews with EyeCarePro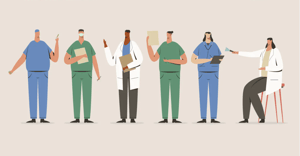 You've Got to Ask for It
As uncomfortable as many practitioners are about requesting reviews, they still need to take a proactive approach to gain them. The vast majority of patients probably leave your office very pleased with their experience, but that doesn't mean that they go out of their way to leave a positive review every time. It's that one guy who didn't really understand his insurance coverage who will get online to leave a 1-star rant that tanks your average and makes you seem like a pretty mediocre place to choose for eye care.
That's why you have to ask the silent majority: your happy patients. What's more, if you want to maximize your chances of success, you should ask on the spot before the patient leaves and make it as simple as possible to follow through. Seeing that your staff members are usually the last people your patients see, it makes sense to delegate at least some of the process to them.

Have a staff member ask everyone but that disgruntled insurance guy the following:
"How was your experience with your eye exam/fitting/optical purchase today?"
"Good? I'm so glad to hear that! If you don't mind, please leave us a nice review on Google".
But even then, most people won't. Providing a "review us here" link makes it even easier, and increases the follow-through rate, especially if you give it to your would-be-reviewer on the spot. You can find your practice's Google Reviews link here. Using texting software, a tablet presented by staff, or email are some ideas, but keep in mind that the easier and more immediate the process is, the more effective it's going to work.Our marketing clients can make use of a powerful app, GetSetReview, a texting app to help generate reviews.
Even when you do this right, you're still lucky to get one out of five actually following through, so you basically have to ask everyone—just obviously not someone who had a negative interaction with you already, see insurance guy above. You know what they say, it's all about delegation, delegation, delegation… or something like that. If you want to do this, you have to clearly explain to staff that it matters. A lot. This responsibility you are entrusting them with directly affects the practice's bottom line and therefore their own job security. They have a vested interest in your optometric success, even if they're not aware of it yet. It's as important as anything else they have to do, from billing correctly and filing on time, to using proper insurance codes. The review part is actually far easier. It takes minimal effort and not a lot of time. Here are some ways you can get staff going:
Team benchmarks — "We got 3 last week, one from Suzie and one from Jason. We need to up our game"
Incentives — "If we get X reviews this month, we'll have a pizza party/bonus/whatever works"
Engaged staff makes all the difference. You can't build your reviews without them. When you get a good review, thank your staff for being part of that client's great experience. It's okay to share the wealth; don't worry, they'll still know who's boss. In fact, it helps boost more great review-worthy behavior. Constantly remind your employees that you couldn't do your job as an eye doctor or practice manager without them and let them know you appreciate their excellent work.