There are many hats to wear and processes to remember when running a small business. In order to cover all your bases and keep your optometry practice running smoothly, you'll need to delegate tasks and outsource departments that aren't your expertise.
Making a few mistakes is inevitable. However, you want to avoid any irreversible damage to your practice's revenue, patient retention, or employees. Therefore, we've listed the 4 most common and avoidable mistakes all small business owners make. Protect your practice from these errors and move forward with confidence.
Running an Eyecare Practice: Mistakes to Avoid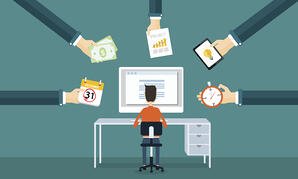 Not Thinking Ahead
It's easy to get caught up in managing day-to-day patient needs, order fulfillment, and other practice duties. However, setting aside enough time every week or month to create long-term plans is crucial for growth and motivation. If you create a 1 year, 3 year, or 5 year business plan, it can help inform quarterly goals and annual budgets. Then, decisions that affect your practice in the long-term, like deciding whether it's time to change your practice management system, become easier to evaluate. You can also motivate your staff to stay with your practice if you've created an organizational chart that shows how they can develop their careers and earn promotions over the years.
Rushing Through Financial Statements
Understanding profit & loss statements, creating balance sheets, and managing inventory can be tedious, but extremely important. Many small businesses underestimate the time and energy they need to dedicate to daily accounting. Don't let expenses or fees build up unnecessarily, conduct regular audits for your practice.
In order to avoid theft and create robust budget plans, you'll probably need to consult an expert. Talking to a CPA or financial consultant can help you understand your current finances as well as plan for the future of your practice.
Not Delegating
As we've mentioned before, ODs cannot run the business side of practices on their own while conducting exams. Billing, accounting, people management, and administrative responsibilities should be spread evenly throughout your reliable staff. If it helps ensure everyone is on the same page, create a task management sheet in Google Sheets. That way, you can check the status of any important actions and step in if a part of the business isn't on track. Delegating tasks has the added benefit of generating new, diverse ideas. If you crowdsource ideas for marketing campaigns, software solutions, and workflow optimizations from your team, you're more likely to generate more creative solutions.
Relying on Word-of-Mouth
It's no surprise that relying solely on positive word of mouth from your patients could stunt your practice growth. Although loyal patients can certainly bring you other loyal patients, we encourage all practice owners to explore multiple marketing avenues to gain publicity.
We've alluded to the power of digital marketing through online ads, retargeting, website SEO, and reviews before. Some online marketing techniques can be accomplished at no additional cost to your practice and might be more effective than offering discounts or sales. Do a little research to find out what works for your patient demographic, location, and practice size.
These optometrists reveal their mistakes and triumphs in our free ebook.