What's your five year plan? Although this is a common question when networking or interviewing for a new job, it's also one all ODs should be thinking about as small business owners.
Business plans come in handy when you're approaching banks or other investors for loans, selling your optometry practice, or expanding in some other way. However, they're also relevant for organizing your growth ideas into actions and a timeline.
In this blog, we help you dissect which parts of the traditional business plan apply to optometrists, office managers, opticians, billers, and the other members of your staff. Hopefully, you can develop a killer business plan when you're done reading.
How to Make a 5-Year Plan for Your Eyecare Practice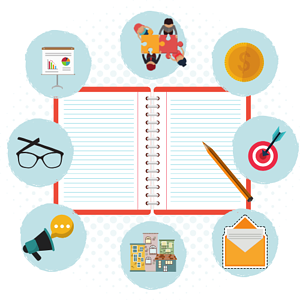 Whether you're planning one, five, or ten years in advance, you should always start with broad long-term goals and narrow down to specific actions you can take to reach these goals.

Step 1: What are your main objectives?
Including providing the best patient care, what parts of optometry excite you the most?
Do you want to grow one successful practice with multiple optometrists?
Do you want to manage and start multiple practices within your city?
Are you looking to provide eyecare to underserved neighborhoods?
Would you like to be known for cutting-edge technology and testing new optometry software or equipment?
These are just a few common objectives eyecare professionals can consider, but the first step is to decide your priorities. We recommend keeping your vision focused so that you can dedicate most of your resources to accomplishing it.
Step 2: Write a mission statement.
We're all familiar with mission statements. It should be simple, short, and impactful. Make sure your mission encompasses how your practice values its patients as well as its team. Your statement is helpful for patients searching for a doctor who aligns with their personal preferences, too.
Step 3: Conduct industry, market, and competitor analyses.
Make sure you're aware of how eyecare practices around the country are performing year-over-year, what growth they're seeing, and what growth is expected for the industry in the next five years. Then, you can narrow your data down by your state or city. We also recommend analyzing the performance and tactics of similar optometry practices in your local area with a SWOT analysis.
Step 4: Develop your core strategies.
Drill down your objectives into strategies: how are you going to meet these objectives? Strategies are something like "ramp up social media production" or "sponsor charity events". They don't have to be quantifiable, but they have to directly lead to your objectives in the long-term. We suggest you create quarterly strategies for the next 2 years, but be adaptable to change.
Step 5: Identify key performance indicators (KPIs).
Once you have the benchmark data on industry success rates and strategies, you can better understand what quantifiable goals you need to hit in order to reach your objectives. KPIs are common in revenue-driven industries, so you can start with how much annual net profit you need to generate from your dispensary, how many claims you need to file, and how many new patients you should be seeing every year. Make sure your KPIs are actionable in monthly or quarterly steps, not nebulous goals. An example could be "Increase twitter followers by 25% Quarter over Quarter until 2019".
Step 6: Create a loose marketing plan.
We know that marketing your practice will change with emerging technologies, trends, and patient growth. However, it's always a good idea to identify the demographics and motivations of your existing patients with patient personas. Then, develop plans for how your marketing campaigns or tactics directly target these personas. This could mean that you market to recent retirees with Google Ads that educate on signs of aging in your vision. If your practice is near a college campus, you could run Facebook ads or an Instagram competition for first-time visitors with messaging about being a new adult.
Step 7: Evaluate management and organizational structure.
What's your management style? Based on your 5-year objectives, you should set a precedent for the type of people you want to hire and the structure you'd like to maintain within your team. If your objective is to grow those early in their eyecare careers, you should enforce a hands-on, open management style with room for error. However, if you want to hire mostly experts with years of experience, then you might be more hands-off and KPI-driven.
Step 8: Cast financial projections and conduct a break-even analysis.
Even if you have an optometric biller, in-house accountant, or outsource either of these roles, you should have a good sense of your practice's financial viability. A break-even analysis helps predict how many items you need to sell or exams you need to conduct until your optometry practice is profitable year over year. In the beginning, all small businesses heavily leverage debt, but the goal is to reduce your expenses to revenue until you're in the black. If you plan on acquiring other practices or building a new practice, financial projections and pro formas are crucial.
Once you've finished these statements and predictions, you can fill in any operational goals or processes that are important to the success of your optometry practice, too. We hope you feel enlightened on presenting a comprehensive business plan.
---
Running a modern optometry practice is easier said than done. Once you've got your plan, our ebook can help you on execution.