Although ECPs usually don't have a business background, some business savvy is required in order to stay relevant in the ever-changing eyecare industry. Companies conduct SWOT analyses when they're moving into new markets, looking to expand their user base, or assessing their position.
Your optometry practice can figure out areas for improvement, develop campaigns to rise above competitors, and figure out its overall value to patients with the help of tools like a SWOT analysis.

We'll show you how to conduct a SWOT analysis for where your optometry practice stands in relation to your competition, locally and nationally.
Develop Your Eyecare Practice Strategy with a SWOT Analysis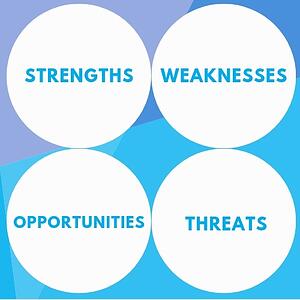 Strengths
Starting off with the positive, what does your practice do well? If you ever ask patients to fill out a satisfaction survey, you could pull their answers into this section. Maybe you've been complimented on your excellent customer service, competitive pricing, and ideal location. Your strengths could lie in your updated technology and medical equipment, experienced staff members, or connections and referrals with other eyecare professionals.
Whatever your combination of strengths, you're forming the story of your practice by focusing on what makes patients choose your practice over others.
Weaknesses
Although it can be hard to hear, it's usually a good idea to ask everyone in your staff what they think are your practice's current weaknesses. You want to cover any blind spots when it comes to making improvements. Practices could suffer from outdated equipment, inefficient workflows, a lack of communication with patients, or stagnant dispensary sales. Make sure to categorize your weaknesses based on priority, frequency, and area of business so that they're easier to tackle.
Opportunities
Think about a realistic future you see for your practice. Maybe you have the opportunity to move to a bigger, more central location? Maybe your practice could expand its clientele by offering a new range of frames or bringing on a new OD. The possibilities are endless, but this section should only include avenues that are possible within the near future at your current profit margins and growth rate. Most of the time, updating your practice management technology can make opportunities a reality for your eyecare practice. It might be helpful to your entire staff to list the materials and budget needed to meet these opportunities.
Threats
Usually, threats involve other nearby eyecare practices, online retailers, and other competitors. However, threats could also be specific to your location, such as hurricanes if you're on a floodplain, increasing rent prices, and changing patient bases. You'll have to anticipate more than just traditional, local threats in order to prepare your practice for the worst and hope for the best.
We hope we've got you thinking about the future of eyecare and your practice. Be sure to share your SWOT analyses with your team so you are all on the same page about where your practice stands and where it can go.
If you want more advice on how to stay competitive, download our free ebook on increasing profits through business strategy.