Growing your patient base is something that every eyecare professional works towards every year. Whether you're a new practice opening up cold, or a mature practice of 20 years–practice growth is always top of mind.
Growing your practice can come from many different directions whether you're looking to bring on new patients, strengthen existing patient loyalty, or improve your workflow to make time for a heavier patient load. Take a look at some of our top resources that will help you grow your practice through the end of the year.
5 Ways to Gain More Patients in Your Eyecare Practice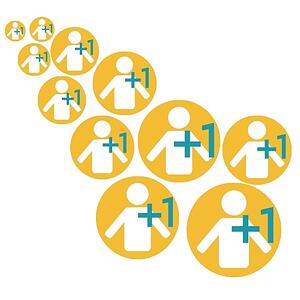 Tracking success of your patient recall
Having a well-customized, automated patient recall solution in your practice is a great way to get your current customers back into your practice. It's easy to kick back and let your patient recall do it's job once you get it all set up, but if it's been a while since you've last updated your messages, it might be time to dig back in. Tracking the success of your recall will help you build the most successful messaging and get more of your patients back into your office.
Delighting patients in your practice
Loyal patients can be more important to your practice than new patients. Having loyal patients in your practice likely means that they are happy with the services you provide and they will likely turn into advocates for your practice. Oftentimes, word of mouth referrals are the biggest (and cheapest) forms of advertisement for your business. Finding unique ways to delight your patients can help build loyalty with your practice.
Optimizing your workflow to see more patients
When your practice is booked to the max, focusing on new patient growth is difficult because your workload is already consumed with providing the best patient care. If inefficient processes are holding you back from seeing more patients each day, it's time to take a step back and analyze where your workflow could improve. Taking this important step will allow you and your team to find new ways to make daily tasks more efficient and help you increase patient satisfaction and quality of care.
Patient experience assessment
Similar to analyzing your workflow for outdated processes, performing a patient experience assessment can help you uncover interactions and experiences that could be improved from the patient's perspective. In this assessment, you'll analyze the front desk, pre-testing, exam lane, and optical to make sure that your practice is keeping the patient front of mind every step of the way.
Marketing tips to help your practice stand out
Focusing on your practice's marketing strategy is another way to help you build and grow your patient base. But if you're in a city with increased competition, finding new ways to stand out can be challenging. In this post of new marketing strategies for your eyecare practice, we cover getting started with Facebook analytics, SEO pitfalls, working with a graphic designer, handling objections, and more.
Need more actionable ideas for marketing your practice and gaining new patients? Download our free ebook below.