Data analytics can sound daunting initially, but allows you to use your eyecare practice's website to its maximum potential. You probably use your website now to list information about your practice, staff, and maybe make online appointments.
However, if you want your website to show up in local internet searches and attract ePatients who prefer to make appointments online, you'll need to understand how to convert your website traffic into a new patients.

The best way to understand your analytics and online patient trends is through Google Analytics and Google Tag Manager. Let us show you how to utilize these tools to maximize your online presence.
Increase Your Eyecare Practice's Search Results Ranking with Google Tools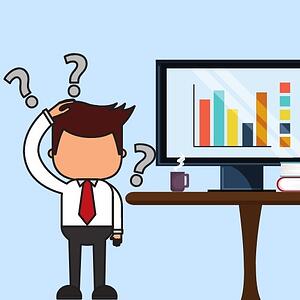 Understand Your Audience
The first step to understanding the data you see in Google Analytics (GA) is to look into the demographics being collected. Where is your audience based geographically? What age are they? Are they using a mobile phone or desktop? This information can be found in the "Audience" tab. Once you have a grasp on the demographics, you can cater your blogs, social content, and design to be optimized for people who are interested in your practice. Always make sure your website is easy-to-use on mobile devices, because more people are browsing their phones than desktops these days.
Another key question to answer is: what websites are referring them? Direct traffic means that the users typed in your URL manually, but search traffic means your practice showed up in results. If you want to know what keywords people are searching in order to find your page, you can click Acquisition > Search Console > Queries. Once you understand which queries people use to get to your site, you can run a Google Ad for those keywords so that your website is more likely to show up at the top of the search results.
No Need for a Web Developer
Google Tag Manager (GTM) helps you install javascript codes on every page of your website so that you don't need to understand programming languages in order to track interactions with your website. GTM allows you to set up triggers across all your pages, track conversions, and run A/B tests to make sure your content is optimized for your visitors. Conversions for your practice could mean the percentage of visitors who sign up for your emails or make an appointment or take some other desired action.
Your practice will save money by using GTM instead of hiring a developer to understand insights into your web traffic. Start by learning the different functions of GTM and GA with this article and you'll be on your way. Although these tools can seem overwhelming at first, there is a large array of help articles online that explain how to use GTM to its full potential with step-by-step instructions, videos, and free tutorials.

Develop Marketing Strategy
When you set up goals within GA and GTM, you have to keep in mind the question "What do I want my visitors to click?". The most obvious result is that you'd like visitors to request an appointment, either by email or through an online form. You can convert your traffic into patients by working backwards and providing the information they would need to funnel them to fill out the form. This is how you develop your marketing strategy.
Using the data you've collected on the demographics, habits, and sources of your website traffic, you can divide your potential new patients based on their browsing habits. Did most of your traffic come from google search, social media, referrals, or somewhere else? Write your copy and design your user experience making sure to cater to visitors from the sources you see in GA. Finally, make sure that every page on your website includes an eye-catching button as a "call to action" to request an appointment so that it's clear what you want your visitors to do.
Measure Success of Campaigns
The most important part of using GA and GTM is checking the success of your digital campaigns, paid and unpaid. If you've optimized your content to include more keywords recently, check to see if it improved your search ranking, traffic, conversion, or another metric. Optimize the messaging of your CTAs and Google Ads and see whether your click through rate improves with GA's date comparison feature. Having access to user behavior data is powerful for making your practice's website a pleasant and effective user experience.
If you find a certain campaign or strategy of yours isn't leading to visible results, make sure you're giving it the appropriate time to take effect before optimizing it again. When it comes to ads and long-form content, you probably need to let tests run for at least 1-2 months before examining the results. However, if your social media posts or emails aren't experiencing engagement within a week, you might need to tweak your strategy because these channels usually have a smaller conversion window. Overall, GA has the information you will need to make sure your content and marketing efforts are informed by hard facts and quantifiable results.
Improve Search Ranking
Finally, the main reason you'd need to invest in a search ad or tweak the back-end of your website with Google Tag manager is to increase your ranking on the Search Engine Results Page (SERP). GTM, Search Console, and the Keyword Planner Tool will help you in different ways. Search Console crawls your website for any errors or bugs and makes sure your pages are being indexed. The keyword planner tool within Google Ads helps you choose which keywords need to be searched in order for your ad to pop up. You'll be able to see how high the competition is for the keywords, how much they cost in an ad, and how many times that term is searched on average per month.
Although search engine optimization can be hard to grasp, the tools that Google offers are easy to use and widespread so that you can consult online forums for thorough guidance. We hope this article has sparked an interest in optimizing your eyecare practice's website.
If you want more SEO and marketing tips, download our free ebook on increasing profits through business strategy.