Have you ever browsed an online store, clicked on a few items that you didn't end up buying, and started seeing ads for those items on websites you browsed afterwards? You were the target of retargeting campaigns.
Retargeting campaigns are becoming increasingly common for ecommerce and search-driven business because they lead to higher average click-through rates. If a large chunk of your eyecare patients are finding you online, you might want to invest in retargeting ads for your optometry practice as well.
Let us teach you about how remarketing works, setting up a campaign for your practice, and measuring the success of its performance in this blog post. Happy marketing!
How Can ODs Use Retargeting Ads?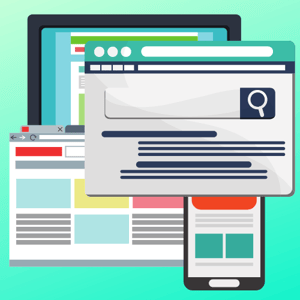 How It Works
Firstly, retargeting is when ad networks (like Google Ads) show your display ad to users who have shown interest in your website, social posts, and online presence. You only pay if the user clicks your ad, so it's extremely cost-effective. However, these ads have a turning point and can get annoying for visitors after a few appearances, so you want to be intentional with your campaigns.
Display ads can be changed in terms of the copy you write, the images you use, and the URL you link to based on what action the user has taken. You can use the traditional Google Ads platform, Facebook Ads, or another third-party vendor. Choose the platform that makes sense for your audience or split your budget between a few.
Campaign Ideas
Before you develop your campaigns, make sure you know why you're using retargeting. Why do you want people to return to your practice's website after they've left? Here are a few questions to ask yourself:
Do you want to target a new, possibly younger patient demographic?
Are you looking to increase your volume of online patient registrations?
Do you have a big event, sale, or expansion coming up that you want to generate buzz around?
Is your competitor's eyecare practice ranking higher than you in local searches?
Are you trying to gain a larger social media following before opening day for your new practice?
Depending on your desired goal and reasoning, you should tweak your simple and effective copy and pair it with relevant imagery. The cornerstone of retargeting is catching a viewer's attention when they're focused on something else completely, so make the visuals memorable. We enjoy images that aren't what they seem at first glance, include bright colors, have minimal text on them, and have a clear call-to-action.
After you've created your ad, you can choose which audiences to retarget to on Facebook based on pages they've liked or actions they've taken on your page.We recommend going after "lookalike" audiences for people who have engaged with or liked eyecare practice pages. Google Ads can be shown on a large majority of webpages, so they're preferable if you want a wider scope for your ad viewers.
Measuring Success
Much like measuring success of all your Google Ad campaigns, you should consistently check your metrics on marketing platforms and Google Analytics. Presumably you set up monetary or lead generation goals for your remarketing campaign, so you can check to see if retargeting helped you meet those goals more than a traditional online display ad.
After a few weeks of testing your ad, look at ways to optimize the content based on how its performing, or who is clicking through. Then, create a new and improved version to test. If you notice people are completing your desired goals or traffic to your website has boomed, you could accommodate this new technique in your marketing budget. However, if you haven't noticed the desired effect, but you're gaining a better understanding of how people interact with your ads and content online, stop the campaign. You can always start it up again when you have a more pressing reason and room in your budget.
All of our marketing tips can be found on our blog, but we've compiled a cheat sheet to running your practice like a small business in the ebook below.