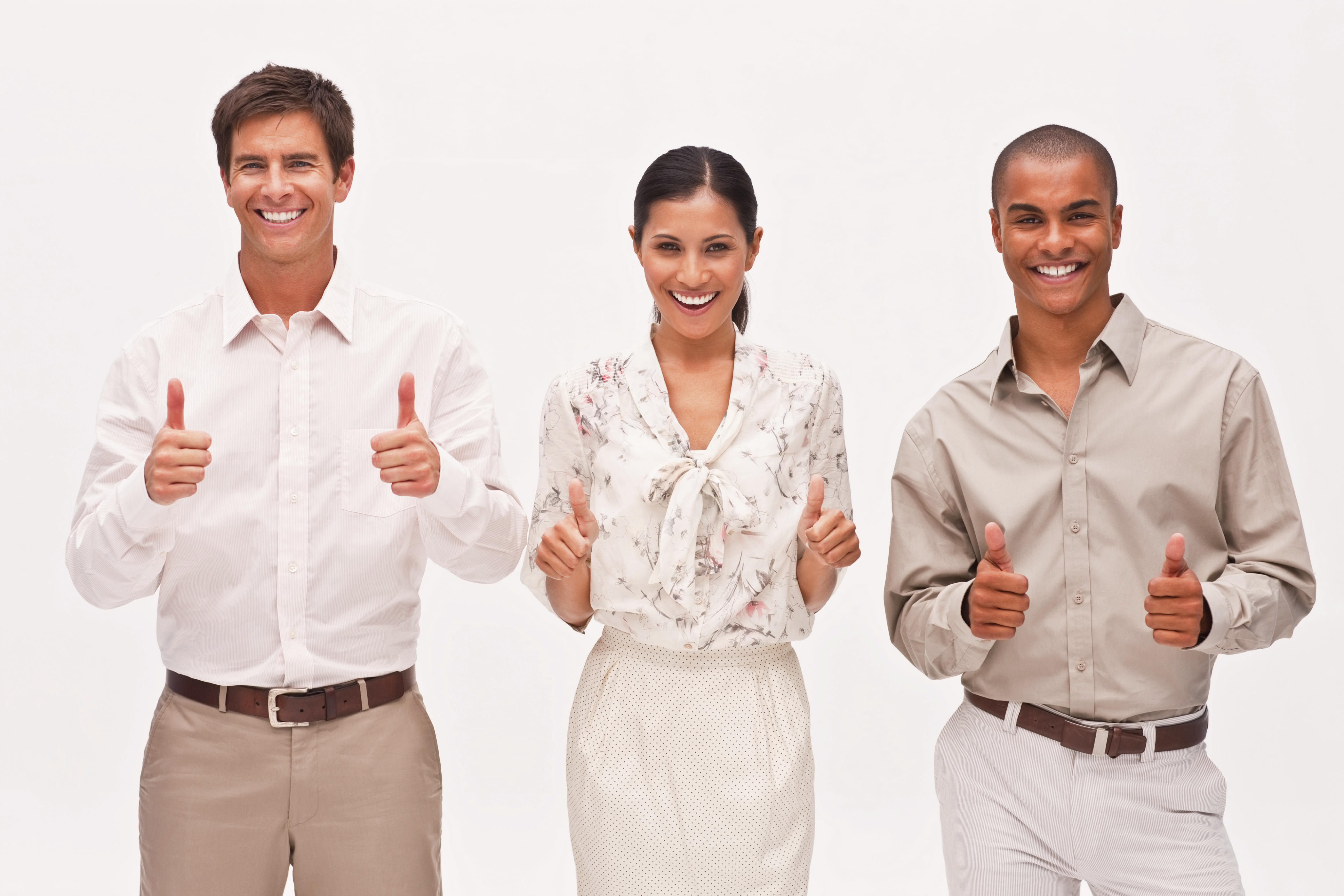 Does your eyecare practice have employee personal eyewear policies? Discounts are very popular among many eyecare practices, but if you do not have a policy in place, you might want to start implementing one. Our friends at the Optical Vision Site are here to help explain the importance of these policies and provide ideas they compiled from several different practices. Here's what Cathy from Optical Vision Site has to share.
Last summer, I had a discussion with an OD on his staff's personal frame policy. His policy was that all personal frames had to be approved first and paid for in advance with no discount for friends and families. However, his ex-wife that worked at the office took advantage of him and constantly ordered personal frames for her husband and family without paying for them. This sets a bad example for other staff and could lead to a morale problem. He asked me what to do.
Personal frames and lenses are one of the biggest perks of the eyecare professional. It is important that staff wear up to date products, because if they wear them, they will sell them, all good… but like every policy, they can be abused.
Problems you might encounter if you don't have a policy in place:
Staff buys glasses at discount and resells them on sites such as eBay or Amazon.
Front office staff has better connections for discounted products and may not be fair to back office staff.
Lack of policy makes it easy to steal or 'pay later' and you have no recourse if no written policy is in place.
Friends and family can take up a lot of time with no profit.
Tracking can be a challenge and if too many frames/lenses are ordered, how are they paying for them? Frames come in, employees pick up their personal, friend's, and family's eyewear and do not let anyone know.
Employees start ordering from rep (taking advantage of rep) for both friends and family. You are paying taxes, shipping, fabrication, rent, and accounting.
What are your Employee Personal Eyewear Policies?
Here are some policies from various eyecare professional offices taken from various friends and forums such as OptiBoard, Luxury Eyewear Forum, and ODs on Facebook:
Some offices set a limit on how many personal frames a staff can order.
We are in the retail business so I decide what frames and lenses we want our staff to wear, then buy it for them! My goal is to have the staff wearing what we want to promote; we are all wearing Maybach frames now with Xtractive non-glare lenses in a drill. We also all have Maui Jim RX sunglasses, Lindberg's, and others in every new lens we want to try.
The glasses we all wear are more important than the glasses on display boards! We also have employees wear black slacks and shirts, so we purchase them to ensure they are consistent. It is all part of the cost of goods and it works for us.
The place I work now gives employee glasses at "cost" plus a small percentage. But the cost is full wholesale and I know we get lenses for over 30% less than wholesale with our discount.
We get 2 "Free" pair per year. The optical shop will pay for any two frames and lenses. Of course, they consider the "Free" pair that the lab comps us as being part of this. There are no exclusions, as long as it is a line we carry and any lens(es) that are available from the lab to order.
I know there are certain labs, say lab H, that invoices at cost, and at the end of the month takes a certain % off our total. So for family and the like, we will use lab C that takes the % off right on the invoice to keep costs down for those that are actually paying.
At times a rep will comp someone a frame for free, and give vouchers for lenses. Our boss once tried to get a coworker to pay for a frame that was given by a rep for free, as she had already "used her 2 free pair". It drives us nuts sometimes. In our office we aren't really petty over one person getting something free. We have a, "That's awesome for them" and "Wow, that was really nice of the Rep to do that" attitude, versus "Why didn't I get one too?"
Employees get 1 clear and 1 sun annually. Also anything they negotiate outside of those 2 with any reps they can purchase.
Outside of the "free" eyewear, they can purchase anything else they'd like at wholesale.
When I took over my optical this fall I snagged free lens vouchers and discounted frames for all the techs/front desk girls. They are the first people to interact with potential eyeglass customers when people arrive in the office and are being worked up for their exams. If the girls up front are happy, they will tell the patients as much. It doesn't get much more simple than that.
Our official policy is one pair per year, all employees, medical and optical. Family is done at 50% off retail.
Official policy is: 2 pair glasses OR contact lenses per year at 50 percent off. No discounts for family other than the "20 percent insurance discount" we give our patients. I say "official' because the optical employees get vouchers from our outside lab once in a while.
Who gets eyewear at cost should be a part of your office policy manual and be explained in simple terms to family members, yours and staff alike. When family members order and receive eyewear they should also be given a copy of the pertinent invoices for their home files and taxes. It keeps everyone honest and aware that you are required to pay and so should they.
I give my family members the actual invoice for the frame and lenses. They all know that I never make a nickel on any of them. I just don't want it to cost me anything. If they try anything funny, they're buying the prime rib for Christmas!
Where I work, all orders must be paid in CASH before being ordered. It's a fairly simple process and avoids all the confusion, you would not believe how many orders will just sit there because they don't want to pay for it this paycheck.
I would immediately purchase a POS system and start a new company policy regarding employee eyewear. Additionally I would not give family members (aside from spouse or children) free product. 50% off full retail for employee's relatives and friends is already generous. The cost to run your practice is very real. Giving away product at what you think it costs (invoice value) is actually less than your actual cost.
Every employee should have a form that they fill out stating exactly what they are ordering. Before the order is placed, it must be approved by an office manager. Once the glasses are received the manager will deliver them to the employee and pay at the time of delivery. The invoice and also the approval form should be placed in the employee file so that it can be monitored.
All sales reps should be aware of your policy so that people are not ordering anything behind your back. Even if the Reps are giving stuff away to your employees for FREE, you need to know about it and a form needs to be filled out.
1 FREE pair of their choice per year for them. Then limit them to another 3 or 4 pair for the rest of the year that they pay for. They can get whatever it is they want, even if it is not for them.
We allow one free pair up to $300 cost of frame and lenses per year and cost for any others for staff. Immediate family members get 30% off.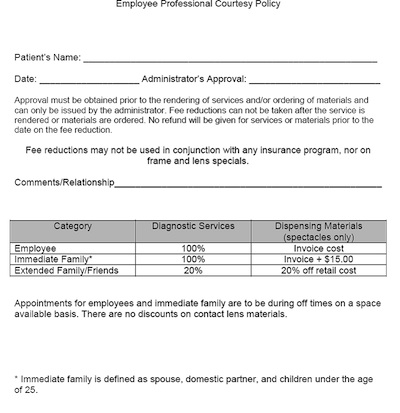 We allow one free pair for each staff member- sun or ophthalmic. If they want to buy additional pairs they pay cost (including tax & shipping) + 15% Family members Exam and Optomap No charge, materials cost (including tax & shipping) + 30% for one pair per year. All orders must be approved by Dr and Office manager. (Harue Marsden)
We hope you've gathered some great ideas and we would like to hear from you. Share your employee personal eyewear policies in the comments below!