We're no strangers to the power of analytics and reporting here. We talk about the 5 Essential Insurance reports to make sure you're gaining transparency into your denials and rejections. We also discuss the different ways Google Analytics and generating other website or marketing campaign reports can improve the effectiveness of your digital investments.
Furthermore, you can't create realistic goals for your practice without understanding which parts of your business generate the most revenue, how to improve employee output, and other performance metrics that need to be tracked over time. Here's an excerpt from our ebook, 5 Year Plan for ODs, that goes over the different reports in EDGEPro that you might want to focus on now.
Reports to Help You Plan the Next 5 Years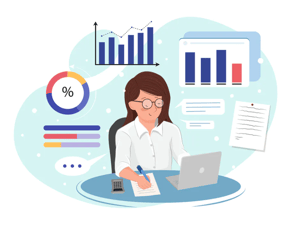 These performance reports synthesize large volumes of dispensary sales data, diagnosis patterns, patient growth trends, and other useful information that would overwhelm your staff. Most importantly, they show you which areas of your optometry practice have room for improvement.
Opportunities
See missed opportunities for growth in the practice by each staff member based on how much money is being left on the table. Track AR, Transitions, POF, and $0 frame sales..
Clinic Overview
Look at year supply number & percentage for contact lenses, contact lens exam totals, percentage of daily contacts, boxes sold, as well as top manufacturers percentage, brand families percentage, and styles.
Time Keeping
Manually enter the hours worked for each staff member so you can see the collections per OD exam and more.
Frame & Lens Sales Reports
Look at line graphs for number of frames and lenses sold in total or per exam, revenue per sale, revenue per exam, and average price.
Staff Compare Matrix
Line staff up side by side to see how they are performing in many aspects of the practice when it comes to optical sales.
Set your practice up with software tools that can integrate with your EHR/PM and provide you the data you need to automatically generate reports. GPN Technologies' cutting-edge data and business intelligence reports from EDGEPro allow you to pull patient data, revenue sources, dispensary statistics, and more to create approximately 20 predictive reports. Uprise EHR & PM is integrated with EDGEPro so that the reports can automatically and securely reference your sales and patient information without any extra effort on your part.