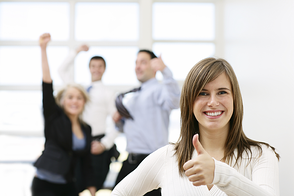 Everyone could use a hand every now and then. And that's what we're here for! Spectacle lens ordering can be overwhelming at times – especially when you're in the process of a million other things. Scheduling patients, checking them in, updating your social media site, tracking orders, the list goes on and on. And because we like to think of ourselves as efficiency machines, we wanted to share a few tips on eyecare practice efficiency. Check out these 5 lifesaving resources for spectacle lens ordering – we hope you take away a thing or two!
Gone are the days when it was occasionally acceptable to receive a spectacle lens order over the phone or by the dusty old fax machine (that you only hope is monitored on a daily basis). We only imagine if you're reading this that you are up-to-date and submit orders for ophthalmic lenses online. So let's cut to the chase – online ordering brings only advantages to your practice.
One of the biggest benefits is an eyecare practice's ability to submit orders to all of their optical lens suppliers in one convenient location. So even if you are performing your spectacle lens ordering online, but you are going back and forth from multiple sites, you still have room to optimize your optical ordering process. Preferably, a practice is better off finding an online solution that connects to all current suppliers plus even more potential future suppliers. Online order status, no waiting time to reach a representative on the phone, fewer errors, and faster turnaround time – what more could a practice ask for!
Picking the right practice management system is crucial for any size eyecare practice, because they basically run the business side of eyecare. PM software allows for duplicate data entry reduction, better organizing of scheduling and billing, integrated spectacle lens ordering, and much more! Picking the right one can seem overbearing, but what is it that makes an office or IT manager know that they're choosing the right PM system for their business?
Functionality is a key attribute many practices look at during the purchasing decision, but many also want to find a company that has a reputation of taking care of their customers, and making them feel like their success matters! The implementation process is also a consideration because it can be challenging and time consuming, so when in the process of choosing your practice management system (software that will be used in your practice for a long period of time most likely) be sure to find a solution and company that has a reputation of being progressive and technologically advanced. You can only be as strong as your weakest link. But boy, when you find the right match, it will surely be a life-saver!
Rockstar Employees
Finding rockstar employees that utilize all of the features your PM software and are well-trained is a task in its own. You want all employees that work with the system to not only know all of the features offered but to actually utilize them as well. You remember all of those fancy things that attracted you to your newly implemented PMS in the first place; well, you may just be looking at your new investment as a sunk cost if your team isn't taking advantage of all of the neat integration features that create efficient spectacle lens ordering processes – favorite templates, order tracking, pending orders – just to name a few!
Bottom line: you have to get your entire staff on board and using the system to its maximum efficiency, otherwise there will be inconsistencies throughout your entire business process. So getting everyone trained is critical to molding a set of rockstar employees!
You remember ordering integration being mentioned before? Ordering online and having a practice management system is a great start, but don't you want it all to mesh together? Well finding a solution that allows your online spectacle lens ordering to be integrated with your PMS may just be your key to success!
So if you haven't yet implemented a PMS, looking for a system that offers integrations with other services, such as product ordering, will give you the opportunity to further increase your practice's efficiency by reducing duplicate date entry! And if you have a practice management system that is integrated with VisionWeb services, you've invested in a system that has provided you with even more bang for your buck than you thought!
Frames Data Assist – Bonus

If you're currently a VisionWeb user, you understand how online spectacle lens ordering saves an eyecare practice time and money! You also know that we strive to make our users' lives as efficient and simple as possible (in their work environment, of course). So naturally, we've assisted in developing an even more efficient spectacle lens ordering process for our users! Frames Data Assist says "no" to manually entering a frame or frame measurements – even further eliminating data entry errors!
With Frames Data Assist, simply enter a frame by the manufacturer or brand, and then access all of the available models, colors, etc. It's as easy as picking the toppings for a pizza delivery online!
So what are you waiting for, it's time to throw away that chunky catalog and subscribe today!