Today, we are going to take a minute to kill two birds with one stone, with a talk about optical ordering and your common optical dispensary patients all in one blog post! A while back we collaberated with Vision Monday to create this awesome infographic poking fun at the customers you see in your practice day in and day out. It might be time to think about how your ordering methods could be affecting your customers!
How Your Optical Ordering Methods Could be Affecting Your Customers

Using a fax-machine or phone to place your orders is for the birds! In today's technologically diverse world, if you are still calling in orders (or faxing), you are wasting time and risking inaccuracies that will upset your patients when they receive their products.

You have several common types of customers, all of whom have very distinct personalities, needs, and tendencies. We have outlined each of them in this infographic, and foreshadowed what kind of behavior you can expect from them.

For example, the Duck brings all her ducklings in to get new frames all at once. She is patient, and kind. However, imagine how bad it would be if you phoned of faxed in her order and important details on her order are missed. Her ducklings would be without glasses for however long it takes for you to clean up the mess! Not to mention all the other birds roosting in the dispensary—the duck is at least nice, imagine if it had been the cuckoo or the woodpecker!

Placing your orders online reduces the amount of work you have to do by preventing duplicates and processing the orders much quicker, allowing your products to get to you as soon as possible. Basically, don't be a bird-brain; make sure that you are placing online orders to ensure accuracy and quick turn around times!

Get a Larger, Printable Version!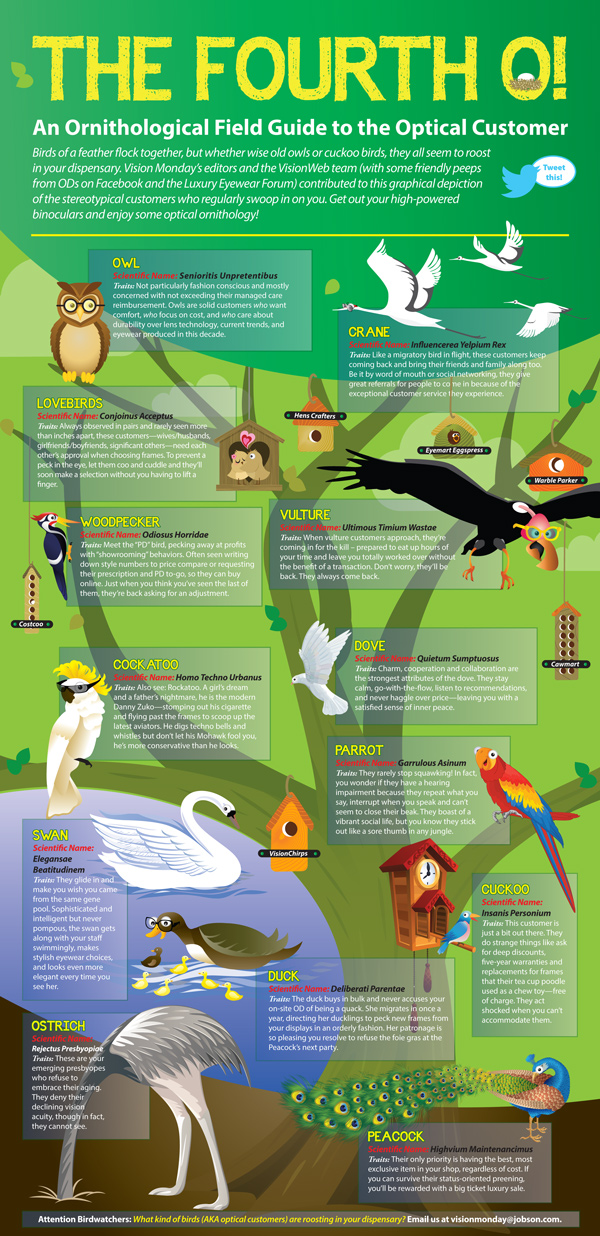 Follow us on Twitter for more infographics and blog posts!