Billing processes can be confusing at best and frustrating at worst. We're always looking for ways to simplify your billing and help solve any unanswered questions ODs tend to have. While looking into information gaps on billing, we noticed that many ODs search for "billing modifiers cheat sheets" to quickly refer to.
Not only are these great for actually doing your billing, but also for any employee onboarding and handbooks so that everyone has a basic understanding of the modifiers. So we've found the most comprehensive cheat sheets online that we're linking for you here.

Eyecare Billing Modifiers Explained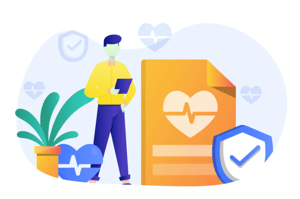 Noridian Healthcare Solutions
This excellent repository of modifiers might already be bookmarked in your internet browser. You can easily search through these to find what you're looking for. Because it's online, it's accessible from any computer for anyone in your practice.
In this free Google document created by an OD, you'll get a deeper dive into common optometry modifiers and how to use them.
If you find your practice struggling to file claims on time even with the help of cheat sheets, it might be time to considering outsourcing your billing to a team of experts. This way, you have someone make sure your claims are getting paid and provide educational webinars and content. Learn more about VisionWeb's Revenue Cycle Management team here.