This halloween, there's only one thing that seems to scare optometrists: lost insurance reimbursements. Your gut reaction might be to hire someone to figure out why you're not getting paid. However, hiring a full-time in-house biller isn't the only solution to your problems.
We'll show you how to empower your staff with the basic billing, coding, and financial knowledge they need to navigate the complicated insurance rules. Then, you can decide the best method to manage your insurance revenue moving forward.
Don't Get a Fright Looking at Your Accounts Receivable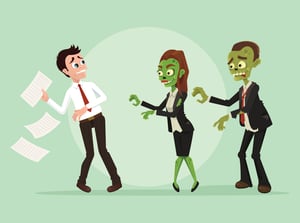 Start with the Basics
If you're starting from scratch when it comes to billing, learning the meaning and usage of different coding and billing terms is a good start. Our Insurance Revenue Kit for ODs will guide you on the journey from novice to expert with a full dictionary, worksheets, flowcharts, and other longform content. It will help highlight how your biggest challenges match up with other practices in the industry. The kit will also show you what options you have to manage your insurance claims in case you don't feel confident filing on your own.
Reporting
If you're not looking at your billing metrics, performance reports, and reducing the days your claims sit in AR, you're missing out. Dedicating time to the organization and optimization of your billing practices is not only beneficial in the long term, but completely necessary. We made it simple for you by creating an ebook detailing the 5 Essential Insurance Reports you should be examining. You'll learn how to generate and read the most important, technical reports.
Talking to an Expert
Like we said, trying to solve unpaid, denied, or rejected claims on your own can be scary. You run the risk of losing the reimbursement if you resubmit incorrectly. That's why we encourage you to talk to an expert like Shane Shepherd, our Senior Insurance Sales Manager.
If you've got lingering questions about unpaid claims, watch the recording of Shane's webinar "Cold Claim Files". He'll walk you through the process of evaluating claims and getting them paid correctly.
The interactive webinar includes all of Shane's tips and tricks as well as audience questions and participation. Watch it for free below.