With new patient growth comes the need to change and grow your practice in size, number of people, or budget.
It's hard to know when it's time to expand your practice, but we can spot a few tell-tale signs that you need to hire a new employee or associate. Usually, having a full patient schedule at least two weeks in advance is a good indicator that your practice could afford to hire more help. However, hiring another optometrist is a big leap to take financially and logistically.
Make sure hiring an associate OD is the best move for you by investigating your options.
3 Reasons An Associate OD is the Right Move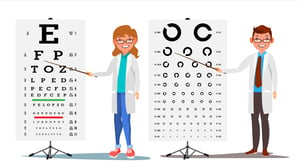 No Same-Day Patients
Many optometry practices are accustomed to walk-in patients. If your schedule doesn't have any room for walk-ins during regular patient hours, that might be a reason to hire an associate OD either part-time or full-time. If a patient requests a same-day appointment and is unable to be seen, it's almost certain they will find a different practice. Therefore, leaving room in your schedule, especially on popular days, is beneficial to capturing new patients.
Extra Space
Physical space is usually a rare luxury in most practices, but some are lucky enough to possess extra rooms that could be used for exams. If this is the case in your busy practice, investing in a full-time associate OD could definitely be a viable option.
However, if you're not experiencing high demand from new patients, you might want to wait to generate more momentum before expanding your team. Consult your technicians, opticians, and front desk to make sure they're working at full capacity and that they're on board with hiring a new OD. You'll want to be completely certain that your practice could support a new OD in terms of physical space, profit, and workload.
After-Hours Demand

Do you receive many requests for appointments after 6pm on weeknights or anytime on the weekends? Does your office not have the capacity for two ODs to operate simultaneously? If you can find an OD and optician who are willing to take on after-hours work, your practice would benefit from the extra patients. First, send a survey out to your existing patients to gauge their interest in booking appointments outside of business hours. Then, conduct a return on investment assessment. You can also split the night and weekend shifts equally in order to make it a more enticing offer for an associate OD.
For more guidance and advice, subscribe to our blog. We're here to help.