How many processes does it take to complete your practice's workflow? Tell us if this sounds familiar:
Your workflow starts with picking up the phone to schedule an appointment or reminder.
When the patient arrives, you print out paper questionnaires for them to complete.
The doctor then prints out paper charts to start the exam.
When the exam is done, you call to order a prescription and if the patient needs glasses, you fax the order to the lab.
I don't know about you, but that sounds extremely tedious to me! If you have that many processes in your workflow, it's time to think about getting an optometry software to streamline your workflow and make it more efficient. With a practice management and EHR software, you'll be able to get rid of the unnecessary processes involving the paper, the phone, and the fax machine! Find out how!

3 Things You Can Do Without with an Optometry Software
1. Paper
Is running a paperless practice really possible? Of course it is! We're living in the 21st century! EHR software allows you store all your patient's health records electronically. So you can say goodbye to all your filing cabinets filled of paper charts! Integrate all your equipment with your EHR system and conduct all pre-tests and exams on your EHR. This will improve the accuracy of your diagnosis and coding.
Some practice management and EHR systems also come with a patient portal that allows your patients to fill out questionnaires before their visit and receive aftercare instructions after their appointment. That means no more printing out paper questionnaires that your patient has to fill out every time they come in and you won't have to manually enter in their information in the system as well. Win-win!
2. Phone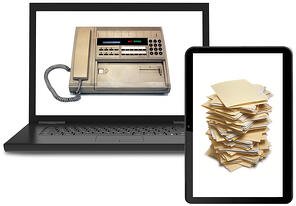 We know that most practices can't function without their phones. After all, you're still going to need it to answer calls from patients or even for emergency situations. But with a practice management and EHR software, you won't need to use the phone for appointment reminders! And we know that that's a big reason practices use the phone any way. Some practice management systems come with patient recall systems built in the software to send automated appointment reminders through text or email.
You can set the appointment reminders when scheduling the patient or at the point of checkout for their next appointment, so you can do away with the process of checking your calendar and calling your patients the day before to remind them of their appointments. Through automated reminders, you also get confirmation or a rescheduling request ahead of time, so your practice can schedule appointment slots more efficiently.
On top of not using your phone or appointment reminders, your current patients can make appointments through the patient portal and the doctor can send an e-prescription to the pharmacy. Both ways reduce the time you spend on the phone!
3. Fax
While a fax machine may seem ancient to those born after the 90s, the art of faxing is still widely practiced in the eye care industry! Many practices still rely on their phone or fax to place ophthalmic orders to labs, and it's quite possibly the worst way to place orders. Fax orders get lost in a busy office and fax orders can get hard to read… It's just a mess for both practices and labs to deal with!
Most practice management solutions have integrations with online ordering services like VisionWeb that allow you to place orders directly within the system. Or better yet, some practice management systems have a built in online ordering feature, so everything from the EHR is synced and the prescription is carried throughout the practice's workflow without duplicate entry.
Ready to start looking for a practice management and EHR software that can help improve your workflow? Download our buying guide for all the tips you need before making a purchase decision!