Managing your team of employees can be a big challenge for a practice owner who is also the OD of the practice. Luckily there are some things when it comes to employee management that can be taken care of with the help of software. Today we want to share with you some of the best options for online time clock solutions for your team. These systems make it easy to track and record the work day for your entire practice.
Are you using a time clock system in your practice that you love? We'd love to hear about it in the comments!
5 Online Solutions for Your Time Clock Needs
TimeStation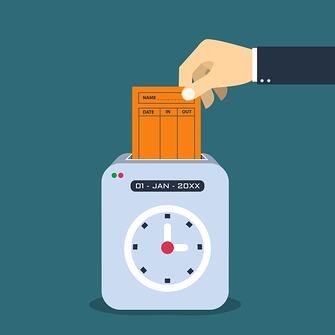 TimeStation is a time and attendence system that runs on smart phones and tablets. Employees can punch in and out in less than a second, and the system runs in the cloud with no software or servers to maintain. Managers can see who is in, and run attendence reports at any time.
Cost: Free up to 10 users, $19.95/month up to 20 users, $29.95/month up to 50 users, etc.
When I Work is a more advanced solution that can manage both your schedule and clock in system. Setting up employee schedules is done quickly with minimal data entry. The system is also web-based to you can access the schedule from anywhere. GPS tracking ensures employees are clocking in and out correctly.
Cost: Starts at $29/month for time clock features up to 20 employees. Time clock + scheduling starts at $55/month.
Track your employees with ease by managing time clocks from mobile devices. You also get access to GPS features, PTO and vacation tracking, employee alerts, and scheduling. TSheets has a variety of options to accomodate any businesses time entry needs.
Cost: $4 per user/month + $16 monthly base fee up to 99 users.
TimeClick is an easy solution for employees to use. You'll be able to save time, reduce hassle, and increase profitability. Admin functions allow you to modify times, run reports, and integrate with QuickBooks.
Cost: Pricing starts at a one time fee of $99 with annual support plans starting at $49.
GetMyTime is a simple way to manage invoice and payroll. With each user you'll get simple time tracking, expense tracking, time entry reminders, QuickBooks integration, free training, and more. With all plans you get a 30-day free trial to determine if the system is what you need.
Cost: $3.95 per user/monthly
For more practice-building resources, subscribe to the blog.