We've found that staff turnover and other human resources issues can quickly stop the growth of your optometry practice. Starting with hiring the best people for your office culture, office managers and ODs can transform their staff with a few informed changes to their management style.
Evaluating your existing staff management processes, support policies, and organization is the first step to building an expert team. Our latest ebook, "Expert Staff Management in Eyecare", includes printable assets, management advice, and human resources tools that can support your eyecare staff.
New Ebook: Expert Staff Management in Eyecare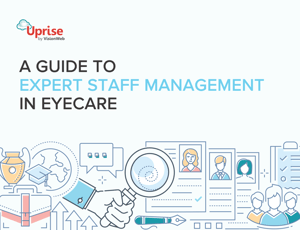 Through research, conversations with America's top ODs, and industry experience, we've included everything you need to build, manage, and grow a team of experts in your practice. From hiring and training to conflict management and big change, we hope that our ebook empowers you to tackle any management issues or situations that might occur.

We include actionable advice on the following:
Must-Have Staff Personas

Printable Goal-Tracking Sheet

How to Handle Conflict within Your Staff

Communicating Software and Workflow Changes
If you've ever felt out of your depth when it comes to staff management, we get it. We hope to provide the guidance and tools you need.
Expert Staff Management in Eyecare, helps you manage your staff through thick and thin.