Keeping a full patient schedule without any no-shows or last-minute cancellations can be a challenging task for many eyecare practices. So today, we rounded up some of our best articles on solving challenges within the realm of patient scheduling. Whether it's better utilizing social media and other online tools to fill your schedule or implementing best practices on your patient recall messages there is something for everyone to learn in this post.
How to Fill Up Your Patient Schedule this Summer
Use Social Media to Help Fill Schedule Gaps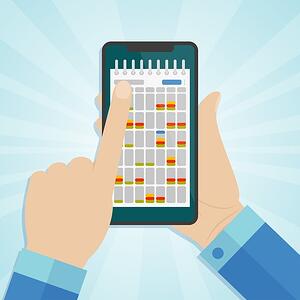 Social media can be a powerful marketing tool for your practice. It's an easy way to stay in front of your patients and build awareness of yourself within the community. This post will give you tips on different ways to utilize social media to help bring more patients into your office. A few ideas that we share are highlighting your products, sharing wellness messages, showcases happy patients, promoting the employees in your office, and more.
How a Patient Portal Can Improve Your Schedule
A patient portal is another great tool to communicate with your patients. The portal can help simplify scheduling for your patients by offering an online tool to make appointments with your office at their convenience. On top of that, the portal can help reduce appointment times by allowing for submission and review of medical history prior to an appointment. This will help save time at the front desk at the start of the appointment.
How to Fix Common Patient Scheduling Conflicts
In this post we talk about three different problems many practices face when it comes to effective patient scheduling. Whether it's sending out the right appointment reminders, clustering appointments, or over-booking - we've got tips to handle each of these scenarios.
4 Ways to Decrease Appointment Cancellations
Every practice faces the challenge of dealing with appointment cancellations. They throw off your day, hurt your bottom line, and disrupt your workflow. In this blog, we discuss four strategies that can help you decrease on appointment cancellations. Tightening up your cancellation policy, employing a patient recall system, managing your schedule, and using online tools are just a few ideas to help you and your team avoid appointment cancellations.
5 Reasons Your Recall Messages Get Ignored
We've talked a lot about the importance of a patient recall system to help keep the schedule in your eyecare practice full, but your recall messages themselves might need some polishing to make them more effective. If your recall messages are being ignored - what's the point? We'll walk you through 5 reasons your messages might not be as effective as you'd like them to be.
Now that your schedule is full, read our guide to increase sales in your dispensary.