Social media is a strong communication tool in your personal life, and also in your professional life. For your eyecare practice, social media is one more way to stay in front of your patients and build awareness of yourself within the community. But, most social media channels are a crowded space and it takes a lot to be noticed and create action from your social community.
While it can be challenging to stand out from the masses, social media tends to be an attractive marketing strategy for small business because you can implement effective campaigns for little to no budget. If you do have some dollars to throw at your social advertising, it will help, but there are plenty of ways to attract patients without spending a dime.
Here are a few social media posting strategies that can help you fill empty appointment slots in your schedule.
6 Social Posts to Help Fill Your Eyecare Practice's Schedule
Share Your Products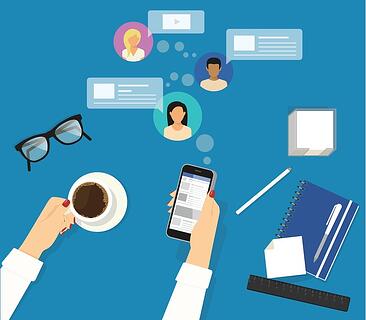 Highlighting frames and lenses that you carry in your dispensary is a great way to generate interest from your patients. You can also use this opportunity for a little research on your social channels by asking which colors or products patients prefer to help you better select your inventory in the future. Plus, if a follower sees something they really love they are going to be that much quicker to schedule an appointment or pop in to check out the frames in real life.
Send a Wellness Message
Other than purchasing frames from you, your patients trust your expertise when it comes to their eye health. And, they look to you for tips and advice on keeping their eyes healthy in between visits. Posting things like eye healthy recipes, digital eye strain tips, or health symptoms to look for are all wellness messages that your followers will be looking for from your practice. These tips could resonate with someone that hasn't had their yearly exam and will encourage them to make their appointment.
Share Happy Patients
One of the best forms of marketing for your practice won't come from social media, but from word of mouth referrals. That's why having strong and positive online reviews of your practice is so important. And instead of just relying on review sites like Google and Yelp, you can share patient success stories and compliments on social channels as well. Share a before and after photo of a patient in their new frames that they are excited about. Or, screenshot a thank you message or Yelp review to share with your community.
Promote Your Team
An important part of a patient's experience in your practice falls on the hands of your team. Most patients will bounce around from front desk to the technician to the OD to the optician which makes having a good team of staff super valuable. Use social media to showcase and highlight staff accomplishments, or to help your patients become more familiar with your team. The next time they come in for their appointment they will appreciate seeing a familiar face.
Show Off Community Events
Being an active member of your community is a great look for your business. If your team is a sponsor of or participates in any local charities or organizations post photos of your participation to show your support of the community. You can also help promote other local small businesses and events and they will likely do the same for you in return.
Post in Local Groups
Another way to promote your practice locally is to seek out local Facebook groups that you can join and contribute to. There are likely some local group pages that will allow you to share specials and events from your office. So, not only is posting to your own page important, but seeking out opportunities to contribute to other groups and reach a wider local audience will help support your social efforts.
Supplement your stronger social media game with a stronger sales strategy in your dispensary. Read our eBook, 4 Weeks to Bigger Profits in Your Optical Dispensary.