Millennials are the generation that grew up with readily available internet, knowledge at their fingertips, technology prowess, and options. They can be a powerful, well-educated addition to your optometry practice staff and will comprise up to 50% of your patient base by 2020. What systems do you currently have in place to make your optometry practice millennial-friendly for both your staff and prospective patients?
Understanding what millennials look for in an eyecare exam isn't too difficult if you turn to social media and other readily available information about engagement. We've pulled together a few design, procedural, hiring, and business tips that can put your practice in the running for millennials who are looking for an optometrist or a new job.
Adapt Your Optometry Practice Culture for Millennials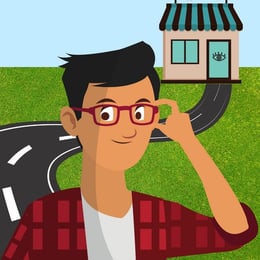 Making sure your optometry practice is environmentally or socially conscious, visually pleasing, full of options, and generally youthful are all benefits in the long-term. These things can also create a more inclusive environment for younger patients and staff.
Use modern technology.
Whether it's the tools your opticians and technicians need to use for practice management and EHR or exam machines and energy consumption levels, the millennial generation appreciates an up-to-date practice. They're savvy enough to know when technology is outdated and will search for practices that maximize efficiency and prioritize patient comfort.
If you invest in an Optomap and iCare Tonometer, your patients don't have to sit through uncomfortable puffs of air and inconvenient eye dilations. Furthermore, they want you to unpack the medical jargon and explain your procedures through the use of technology like iPads and videos.
Also, make sure you're using online ordering, electronic claim filing, and modern practice management software so that your patients can fill out forms, make appointments, and receive order status updates without having to call your office during business hours. New generations live off of instant gratification and convenience, so they'll appreciate that you're not only making their life easier, and you're also reducing busywork for any potential office managers or technicians.
Make sure you have a positive online presence.
We've talked a lot about the benefits of social media for growing your practice, but it's even more vital in order to grow your millennial patient base and staff. The first thing you should be doing is making sure your existing patients are leaving positive reviews, posting photos on Instagram or Facebook, and engaging with you online. If a young, qualified candidate is applying to be part of your optometry team, they will surely check your social media presence to see photos of the office, staff, and what patients have to say. Show them a good first impression.
Much like picking a new restaurant for dinner, the best way for patients who have moved to a new city or area to find an optometrist is to trust a Yelp review they read online. If you have high-quality images on Google Maps, accurate information on Yelp or other review websites, and regularly post to your social media networks, you're more likely to be perceived as a valuable practice by the community.
Capture dispensary sales aesthetically.
We know that millennials will buy most of the things they need online due to convenience, but you should emphasize the value of buying from your dispensary. Sales techniques, carrying trendy brands, and lens fittings are all valuable when the patient is already in your practice, but how do you get millennials to choose to browse your dispensary?
The younger generations aren't as concerned with designer brands as baby boomers and Gen X, so you can sort the frames by shape, color, or trend. Display hand-written staff recommendations like independent bookstores. Even if you need to consult a designer or commission an artist, you should have a frame board that is pleasing to the eye so that your visitors want to take selfies and Instagram it.
Millennials respond well to a calm, modern design and an ethical brand. Use a colorful backboard, add a few plants, make sure mirrors are as much decorative as they are utilitarian, and include the story and mission of each brand on plaques so that your visitors aren't overwhelmed with choice.
When something works well, collect feedback.
The younger generation wants to consider all their options before making a decision, which means they probably already Googled five other practices before walking into yours. Administer a patient survey to find out why your practice stood out to the younger age range; you might be surprised at what you find. Always ask for feedback or areas of improvement to see how you can better cater to their generation.
As for millennial employees, they thrive off of goals and feedback themselves. During the hiring process, make sure you're asking about the candidate's personal goals to show them your dedication. Setting a clear career progression path and having regular one-to-one meetings will help retain your best staff members. During your meetings, ask them for feedback to make sure they are satisfied with your managing methods and their day-to-day tasks.
Millennial staff might also attract millennial patients, so keep that in mind when you're in the process of hiring. We hope these tips help you communicate with and cater to the next generation of employees and patients.
Sign up below to receive e-mails when our blog is updated with more marketing tips for your practice.