First things first, in order to get positive online reviews for your practice you need to be providing patient care that goes above and beyond a patient's previous experiences with other providers in all areas of your office. But once you provide that exceptional care, how can you ensure that your patients will go the extra mile and share their positive visit online?
In many cases, if you aren't promoting and reminding patients to leave online reviews you're going to be seeing more reviews come from the patients that were unhappy in your office more than those who had a great visit. There really is no way to ensure that a patient will write you a positive review, but there are a few ways you can encourage and remind your patients that it is appreciated. Let's take a look at a few ideas.
6 Ideas for Better Online Reviews of Your Optometric Practice
Post Visit Survey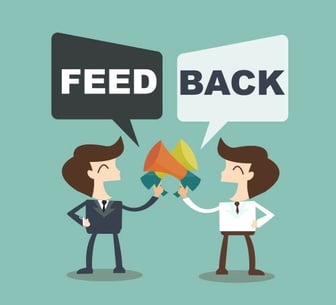 To follow up with patients after their appointment you can use an automated tool that sends out a brief survey after their appointment. At the end of the survey you can have a link to write an online review if they enjoyed their experience. A survey is going to help you make improvements to your practice that you may not have thought of or considered without asking this anonymous follow up. People will most likely be honest through a survey than they would be to your face.
Just Ask
Sometimes you're going to know on the spot if a patient is happy with the time they spend in your office. And in these situations, asking a patient up front if they'd share their experience online can be a good opportunity. Whether it's the OD asking for the review or the optician when a patient comes in to pick up their new frames - both are good chances to ask for an online review if the patient expresses their happiness with you.
Text Reminder
If you're using text message reminders and recalls in your office you can send your post appointment follow up text to include a survey or a reminder to write a review through a simple text message. If you include a link to Yelp, Google, or Facebook it will be one less step that person has to take in order to make writing the review a reality.
Thank You Email
If your practice isn't sending out text reminders yet, a thank you email is another good option. A quick email can work the same way as a text message and might even last longer on someone's to-do list. A quick message like, "If you enjoyed your experience with us today, we'd love for you to share it with others on Yelp, Google, or Facebook so new patients know what to expect on their visit," could encourage a couple extra people each month to leave reviews for your practice.
Invoice Message
Dropping a line on your patient's invoice is another area you can use to remind them to leave a review online about their experience. Just like the message in the email above, you can use similar messaging on the invoice.
Offer Incentives
Offering incentives for those patients who take the time to share their experience online is a great way to encourage participation. You could do something as simple as each month or quarter 1-3 people who leave reviews will be drawn to win "x" gift or discount to use in your practice.
Looking for ideas to boost the patient experience in your dispensary? Download our eBook, 4 Weeks to Bigger Sales in Your Dispensary.