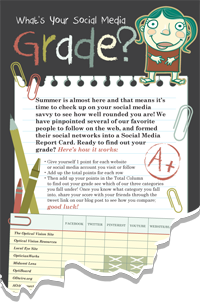 Over the past two years Social Media has become an integral part of eyecare practice marketing activities. What first seemed like a short-term trend has now turned into a full-fledged marketing tool that all practices and businesses can use to their advantage. We thoroughly enjoy using social media in our marketing mix and think that there are others in the eyecare industry who feel the same way. So we wonder, if you were graded on your "social media savvy", would you make an A?

And, we want to know your social media grade! Are you a social savant amongst the crowd or a lurker behind the scenes? Don't forget to share your score either via Twitter so that you can compare yours with your friends!

We also wanted to highlight some of our favorite websites, blogs, Twitter accounts, and YouTube channels so that you can also follow some of the best social media sources on the web that you might have missed.
We hope that you find these optical marketing resources as eye-catching and informative as we do, and can incorporate some of the resources that they offer into your practice!

The Optical Vision Site
The Optical Vision Site is an upbeat and innovative optical blog that is rapidly becoming the ultimate resource for all things optical as it features daily tips and unique content. Whether you are an Independent retailer, doctor, optician, sales rep, optical vendor, or anything else related to optical, you are sure to find something to inform, inspire, or even amuse you on The Optical Vision Site.
Optical Vision Resources
Optical Vision Resources is run by the same ladies who oversee The Optical Vision Site and was created because there was no single-click source to find all the Wholesale Optical Labs and Distributors that are available to the optical retailer in a web directory format. Each site that they post on Optical Vision Resources is screened to insure that the products and services are directly related to optical, eyecare, and health.
Local Eye Site
As many of you may know already, Local Eye Site is an online community for eyecare professionals to post job listings and to find jobs. It's a great informational resource for those hiring and seeking employment. Local Eye Site does a great job of posting tips and resources on all their social media channels ranging from their blog and Twitter to their newly created Pinterest Page.
OpticianWorks
OpticianWorks provides free, high quality, on-line training for opticians, opticianry students, those studying for the ABO Exam, or those working to become non-licensed optical dispensing professionals. If you are looking for training resources for your staff we recommend visiting the OpticianWorks Blog for some great training resources at no cost to you.
Midwest Lens

Midwest Lens is an optical laboratory in Kansas and has been a VisionWeb connected laboratory for quite some time. Their blog, Blog @ Midwest Lens, covers a wide variety of topics related to the industry; from information about a new product or frame line, an eye health related issue, or even events and promotions. They update their blog regularly and it's always full of great info! Follow them on Twitter with the handle @MidwestLens.
Optiboard
OptiBoard is a message board community that's strictly for the eyecare industry and is always buzzing with great conversations. We first came across the site around 5 1/2 years ago and have followed it ever since. It's a great place for dialogue with colleagues and great, honest opinions. It's definitely one to check out. Oh, and it's free to join.
OD Wire
ODWire is another outstanding message board community in the industry. Over 14,000 ECPs are members of the site which is only open to ECPs. They have the great dialogue that you expect from a message board, and they also host Webinars for their members to participate in on a regular basis.
AOAConnect
AOAConnect is fairly new to the realm of social media, but we definitely think it's worth checking out! The AOA describes AOAConnect as "a place where AOA members, students, volunteers, and staff can share information, work collaboratively, and build community. If you're already active in social media, AOAConnect will feel familiar. If you're new to online communities, know that AOAConnect is a place where you can participate fully in your profession."
GrandRounds4ODs
GrandRounds4ODs is the twitter handle for Dr. Richard Hom in San Francisco, CA. Dr. Hom is a great optical social media resource for all things eye care related. Dr. Hom regularly uses the Twitter hashtag #Tips4EyeDocs to send tweets about great eye tips for optometrists and opticians. We recommend reading his blog here and setting up a search for #Tips4EyeDocs in your Twitter client.
The Official VisionWeb Blog
The Official VisionWeb Blog is designed to deliver valuable information that you can use to keep your practice ahead of the curve. From providing tips on how to use optical ordering services and claims processing services to increasing your practice's efficiency, to social media and marketing advice, to articles from other information sources in the industry – it's all covered! The Official VisionWeb Blog is your destination for information that will help you take your practice to the next level.
VisionMonday.com
VisionMonday is the industry's premier source for news and information, certainly you already know that! Not only is their site great, but everyday, they deliver the latest information right to our inboxes. VisionMonday is also responsible for the fantastic Global Leadership Summit at Vision Expo, which has helped bring social media and innovative marketing approaches to the forefront for our industry.