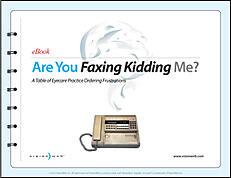 Does your eyecare practice use a fax machine to send jobs to your laboratories? Yes, you say? Then you need to hear Stu's story!
In this tale of eyecare practice ordering frustration you'll learn about the common pitfalls of outdated ordering methods, and how to get the most out of modern ordering techniques.
Read this and the next time someone tells you they don't order online, you'll be saying, "Are you faxing kidding me?!"
Click here for additional optometry eBooks and resources.