Showrooming is a word that we keep hearing more and more often and we think that dealing with this must really stink (for lack of a better word) for the many independent practices that rely on our services. We LOVED this post from our friends over at The Optical Vision Site and thought you may enjoy it too. Check it out!
From the OVS Blog: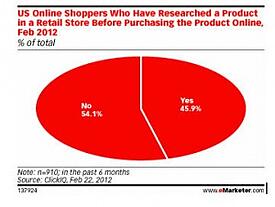 Showrooming is a new word- and pretty much what it means- a consumer comes in the store takes a picture, goes home and buys the product online for maybe a cheaper price. The brick and mortar store becomes a 'showroom' for online retailers. Showrooming is based upon 2 premises 1.) That online product is cheaper 2.) That lower prices alone are the only reason the people buy.
A recent study says that consumers think brick and mortar stores will become showrooms by year 2020. (Source) In fact by 2016 it is predicted that more than 1/2 the retail sales will be influenced by the web.
Show-rooming effects every retailer, not just optical. In fact in an effort to combat showrooming. Target has pushed their suppliers to give them an exclusive on products, added more product they offered online and is sending text messages on coupons to consumers. In their efforts to combat showrooming, Wal-Mart is offering on-site pick-up for online orders so consumers can avoid shipping fees.
A Pew Internet and American Life Project story in January 2012 study suggests that people are still purchasing in-store
35% bought from the retailer's store location where they were comparison-shopping
19% percent bought online
8% went to another store
Despite all of horror stories the good news is that brick and mortar stores like Apple are growing, Microsoft is opening stores, Warby Parker has been opening POP-up stores as well as kiosks and it is rumored that Amazon, eBay and Google, Piperlime are looking at brick and mortar locations to support their online presence.
So what do you do when a brand shows up online at a discount? First don't freak out and send the product back. There may be many reasons that brand is discounted online and the supplier may not realize it. This brings me back to the days that Maui Jim sold Cost-Co their discounted frames. First call Supplier first to find out 1.) If they know 2.) Is this current product 3.) Is this a sales stragey or a one time thing.
Back to the Point of our post!
10 Ways To Combat Showrooming
1.) Price your products appropriately. The days are gone of taking a $5.00 frame and marketing it up to $200.00. The consumer knows, and you do not want the consumer telling all their friends how over-priced you are. Price your products appropriately at keystone or a little above keystone. If you need more margin, focus on 2nd pair sales, add-ons and accessories.
2.) Carry Unique Product and carry color. You might even consider Private Label. Evaluate what products are heavily discounted online, and while you may carry that product, carry the colors to make the product pop and encourage in-store buys.
3.) Merchandise- Merchandise and Re-Merchandise. Wonder why we have been running so many 'merchandising' posts- Yep, the one thing about buying online the product looks bor…ing. Merchandising can not be duplicated via an iPhone. Set up a merchandising calendar, hire a merchandiser to do your windows and displays.. and entice those patients..
4.) Deliver Customer Service And Add value- yes, Give away a FREE good personalized Microfiber Cleaning Cloth, Give Away FREE, Personalized Lens Cleaner, Add in a Screwdriver Kit, have iChats with your patients, set up personalized trunk shows, go way over and beyond what you are currently doing now… Nothing can beat the human interaction factor.
5.) Data-Mine better Send text or email notifications (coupons, discounts, new products) to patients – - that are relevant based on purchase history. Beef Up your software now in order to make this happen and make it easier to communicate with your patients. Try the Edge
6.) Train, Train and Train employees. Your employees should know more that online retailers. Send them to trade shows, have in-office training program.
7.) Beef up your website NOW- Do not pass go.. Website should be mobile friendly and SEO optimized. Using local SEO, store locators, google maps, google locator will help you get found..
8.) Coupons- I know many people don't discount, unfortunately the market for people who do not want to pay full price is almost over. Google Shopping's paid ads provide a link for downloading coupons. RetailMeNot has a new app for iPhones with money-saving features designed to help retailers keep consumers in stores with discounts.
9.) Market the Buy Local- Consumers may not realize how much they are hurting themselves community-wise by purchasing online. See our stories on Buying Local . Practice what you preach, buy local yourself and support the community and make sure you let your suppliers and patients know about this.
10.) Track, Track and Track. – Using software such as The Edge, you can track your sales metrics and using your webserver or google analytics you can track hits, ad campaigns, top pages and more. As an example:
Aggregate results seen by a national retailer and a global dealership client, using an automated Local (Maps), Organic (SEO) and Mobile (Smartphone) SaaS solution, designed for enterprise multi-location businesses (Source and more info on the site)
Online To In-Store Foot Traffic – National Retailer
60%+ of total Web users clicked on Operating Hours
16%+ of mobile users clicked on Maps
5% of total Web users clicked on Driving Directions
2.7% of Web users clicked on Shop Online
Bottom Line- Gone are the days, of open the doors and they will come. Retailers have to know consumer behavior, be able to mesh online and brick and mortar strategies in order to compete today. It is up to every retailer to make themselves unique and differentiate themselves from their competition (online and otherwise).
Resources (if not linked above)
What are you doing to combat showrooming in your eyecare practice?