On top of being a healthcare facility for your patients, we know that your practice is also a small business where frame sales are a big source of revenue. When your patients come in for their annual exam, you would like to see most of them filling their prescription at your practice.
Unfortunately, with the rise of online retailers, a lot of practices can become a showroom for their patients. Showrooming occurs when patients try on the selection of frames available in your practice, then buy the product online. However, there are subtle ways to prevent showrooming at your practice and increase your frame sales. Read these key tips for ECPs to see how.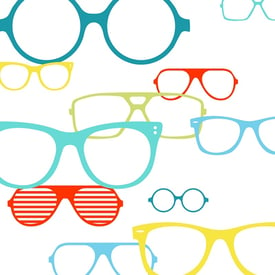 5 Steps to Higher Frame Sales
Explain prescriptions to patients
If your patient requires a specific lens type, they might not understand the benefits or importance of it unless you explain it to them. Take the time to talk to them about their prescription and inform them of the dangers of getting a cheap knock-off online. Make sure that the doctor hands off a prescribed lens material and design to the optician so both doctor and optician can educate and emphasize on the importance of filling their prescription accurately to the patient.
Feature promotions through email or your website
If you plan on having special offers, make sure that your patients are aware of the savings they could enjoy. Keep your website updated with current promotions and consider sending out email or text notifications of coupons, discounts, and new products that are relevant based on their purchase history.
Keep inventory unique
Carrying unique product lines such as private labels or high quality products that are not available from online retailers can give you a competitive edge. Find out which items are discounted online and carry the item in a variety of colors to encourage in-office buys.
Introduce frames to patients without a new prescription or contact lens wearers
If your patient doesn't have a new prescription, they could still be interested in getting a new look. Introduce your new arrivals or new trends in frames. Don't lose a sale by assuming that they aren't interested.
All contact lens wearers also need backup glasses. So when they get a new prescription, make sure they get a new pair of backup glasses as well. Simply mentioning this to patients and expressing genuine concern is usually all it takes. If that's not enough to stimulate the sale, think about packages that you can offer that make purchasing backup glasses a good deal. Try charging a flat rate for certain tier of frames when your patients purchase an annual contact lens supply.
Price frames reasonably
Today's consumers are smart shoppers and they know that they have other options. Word of mouth is powerful, and you don't want them telling everybody how you overprice your frames. Do your research and price your frames competitively. Tools like Frames Data will be able to give you accurate wholesale and suggested retail pricing. And if you're looking for more profit margins, focus on second-pair sales or accessories instead.
For more tips on how to increase revenue in your practice, you should download our eBook where we show you the most important benchmarks your practice should monitor.
Editor's Note: This post was originally published on November 4, 2014. It has been updated for relevance and richness of content on April 30, 2019.