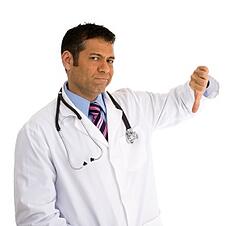 Did you know that in a recent survey 93% of eye care providers said that online ordering to spectacle lens suppliers made their practice more efficient? If you did, then why are you still using the phone and fax to place these orders?! Phone and fax orders are more susceptible to errors, take up time that could be spent on patients, and prevent you from taking advantage of some great features online optical ordering services, like VisionWeb, can provide. But that's not all; check out these 5 consequences of not ordering to spectacle lens suppliers online.
1. Unhappy Employees and Customers
If you are not utilizing an online ordering service, your precious time and money are being used inefficiently. Navigating to multiple sites, that all use different ordering processes, can be very cumbersome for any practice. With the online ordering service that VisionWeb provides, these days are over. Our services give you access to over 400 spectacle lens, contact lens, and frame laboratories in one convenient location.
The average eye care practice wastes about 34 hours per year ordering via phone or fax. Your time is being wasted on the phone with the labs updating information and correcting mistakes. When orders are placed through VisionWeb, there is an error checking feature. This error check makes sure orders are correct before sending them off to the lab. Automatic error checking also makes it impossible to create an order combination that can't be made by your labs. Because of this feature, your practice won't have to deal with a lab calling you up about errors in your order.
Using phone and fax ordering not only wastes your time, but your customers' time as well. While you're forced to be on the phone, your customers are experiencing longer wait times and frustrated employees. When you order to spectacle lens suppliers online, you will have a more efficient practice and happier employees and customers.
2. You Can Only Work During Your Spectacle Lens Suppliers Hours
With an offline ordering system you are limited to placing orders only when your lab is open. In order to track your orders, you have to rely on them. By moving your ordering system online, you have access to order placement and tracking 24/7. With an Internet connection, eye care providers can track any patient's order, from any computer.
These services are also available on your smartphone or tablet. With the VisionWeb app you're able to stay up to date with your orders virtually anywhere. Even if you're out of the office, you can still review pending orders, check the status of orders in process at the lab, access archived orders, and navigate through orders easily with search and filter options. By utilizing all VisionWeb has to offer, you will have access to your labs 24/7, no matter where you are.
3. Slower Turnaround
A faster turnaround is created by ordering to spectacle lens suppliers online. It could take up to a week to receive an order placed on the phone or fax, while an online ordering system typically gets orders back to your practice 1-2 days faster. Mistakes are harder to make because every order is error-checked before submitted. This creates the benefit of spending less time on the phone with the lab. The lab and the eye care practice can instead focus on the work at hand and turn jobs around faster.
4. Inability to Integrate Your Eyecare Practice Management Software
Without an integrated system, your practice is forced to duplicate data by entering orders in multiple locations. After entering the information into your eyecare practice management software, you then have to enter it again to place that order. If your practice already uses a practice management system, you can integrate it with VisionWeb. VisionWeb allows you to use the information from your optical practice management system to create and submit orders to your suppliers, without leaving your system.
5. Lose out on VisionWeb's Features
So, if you're still not convinced that switching to an online ordering service will be beneficial to your practice, let's look at a couple of VisionWeb's features that make the ordering process easier than ever.
With frames data assist, you no longer have to manually enter frame or frame measurements. All users are able to search the frames data catalog, select a frame, and a simple click will automatically populate frame measurements. Ordering frames is now easier than ever and other VisionWeb services take the hassle out of all your ordering.
On top of frames data assist, with the save to pending feature you're able to save partial or completed orders for later use. This feature reduces the amount of unnecessary duplication that many practices are guilty of.
This unnecessary duplication can be further reduced with the use of two different order templates that VisionWeb offers. The favorite order template allows you to save a template that you use often for easy access when needed. In addition, the archived order lets you file your completed orders in your account. You can search for these orders, but it won't slow you down when they aren't needed.
All of these features save time and decrease the likelihood of making mistakes.
There are real consequences to not switching to online ordering and sticking to the traditional ordering processes. By ordering to spectacle lens suppliers online you will save time, money, and have happier customers and employees.
Keep up to date with all of VisionWeb's services and tips on how to make your practice more efficient. Subscribe to our blog today!