If time is of the essence and money is time, then how much could you be saving by finding out how to order ophthalmic products faster? We've got some tips to make your ordering just a little bit more efficient so that you can have your frames, lenses, and contacts as soon as possible!
Do You Know About Tabbing?
You know that "tab" key on your keyboard? Well, most people know it for indenting paragraphs when typing. But it can do so much more than it lets on. It's literally a miracle worker when inputting information while ordering ophthalmic products online. When you're done typing information in one text box and you want to move over to the next box, just press the tab button and it'll take you to the next field. It's that simple! You don't even have to think about taking your hands off the keyboard, grabbing the mouse, moving the cursor to the next box, and then clicking. Just thinking about all that work makes me exhausted.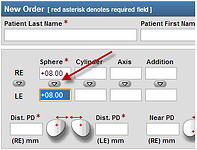 Start Using Arrow Fillers
In many cases, patients' eyes are symmetrical. So it often doesn't make sense to retype the same information twice – one for each eye. We've come up with a way to make things a little faster for you. When you place a new order through VisionWeb, you have the option to copy some or all of the right eye information into the left eye fields – all with the single click of a button.
Got Favorites?
Think about your favorite websites. You probably have these websites saved on your internet browser under the handy favorites list for quick access. Now think about the most popular or frequently used Rx prescriptions. How cool would it be to save those and then be able to pull them up whenever you want – just like your favorite websites? We thought it would be a pretty helpful tool, so we went ahead and made it happen! When you log into your VisionWeb account, you can create a brand new order with popular Rx information. Then, label the order and save it to your pending jobs. Next time a patient's information matches one of your favorite templates, all you have to do is pull one up and fill in the patient's name and you're on to the next one!
Worry No More with Integrated Frames Data
Out of all the steps it takes to order ophthalmic products, inputting frames data information is probably the most time consuming and error-prone part. Don't be a victim of frames data inconsistencies. With VisionWeb's Frames Data Assist module, you will find it easy to transfer patient information, sift through spectacle options, and view wholesale pricing. The best part is that it's all located inside the VisionWeb tool – no more confusing catalogues or complicated DVDs!
Get the Mobile App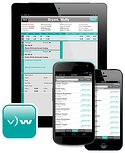 No matter where you are, we know that you're always connected. You've got social media, weather, news, and your calendar in the palm of your hand. Your smartphone is basically the secretary of your life. So let's go one step further: what if you could use your phone to check on your patients' orders? Well, there's an app for that. With the VisionWeb Mobile App, you can review your pending orders, monitor the status of orders in the lab, and access archived orders all on the go! Best of all, it's free!
Congratulations! With all these tricks and tips up your sleeve, you are now a certified whiz at ordering ophthalmic products! Login to your VisionWeb account and start living the easier life!