With the start of the new year it's time to take a look back at the previous year and decide where you had successes and where you had shortcomings. And it only makes sense to make improvements in your practice where inefficiencies lie. So for our VisionWeb users we wanted to remind you of a few tricks we have up our sleeves to help make your optometrist product ordering processes even faster!
2014 Best Practices for Optometrist Product Ordering
Tab Through, Don't Click
A simple time-saving trick you might not be aware of when using VisionWeb is that you can easily push the "tab" key on your keyboard to move from one text box to another. No need to waste a mouse click. And if you're really familiar with the ordering tool, using the tabbing feature will be a breeze!
Utilize Favorite Templates
Do you have a few common prescriptions that you use over and over? We thought that it would be helpful to have the ability to have favorite templates for the most common prescriptions. So next time you log-in to your account you can create a brand new order with one of your most popular prescription's information. Then, label the order and save it to your pending jobs. Next time a patient's prescription matches one of your favorite templates, all you have to do is pull up the pending job and fill in the rest!
Use Arrow Filters
For a lot of patients, their eyes are symmetrical. So you can find yourself retyping the same information twice, once for each eye. With our tool you have the option to copy some, or all, of the right eye information into the left eye fields, all with the single click of a button.
Save Orders to Pending for Later
Getting sidetracked by multiple patients is a reality each day in the office. With the Save to Pending feature, you're able to start an order, save it, and then come back to it later to finish when you have a free minute or two. And once you're ready you can send it off without having to re-enter any information. This way your patients won't get ignored when they walk in the door because you're busy trying to finish up an order.
Track Your Orders Online
Since you're already using VisionWeb to place all of your ophthalmic product orders anyways, you might as well track them online as well. Calling labs individually to track orders is a waste of time for you and your patient when you can easily track orders with a few clicks of your mouse!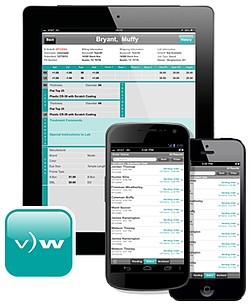 Automatically Populate Frame Measurements
Inputting frame data information can be a tedious part of the product ordering process. With our Frames Data Assist Tool it's easy to enter a frame by manufacturer or brand to get access to available models, colors, sizes, and temple lengths. Once the frame is selected the measurements button will populate A Box, B Box, DBL, and ED if available.
Access Your Account Anytime, Anywhere
Since VisionWeb's online ordering tool is a cloud-based service you can access your account from any device that can connect to the Internet. And for those of you who spend a lot of time on the go, check out the VisionWeb Mobile App! With the app you can review pending orders, track orders, and access archived orders.