What better way to dive into the season of love than with a guest blog post about marketing for optometrists from our lovely friends over at the Optical Journal. Pick up some tips on easy ways to get your patients involved and excited about Valentine's Day at your office!
It is a short time between New Year's and Valentine's Day... so pull up your temples and start the process... you may be a Valentine Grinch, but check out some of the below numbers and why shouldn't consumers be spending some of those billions of dollars with eyecare professionals?
Have Fun with Your Optometry Marketing This Valentine's
$27.4 billion - The total spending that will be reached by Valentine's Day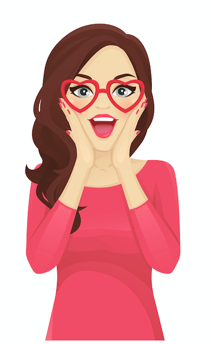 10 Marketing Tips For Valentine's Day
Consider curating a frame display; Valentine's Day for Your Teacher, Valentine's Day for Your Aunt, Valentine's Day for Dad, etc.

Order in Red and Pink Eyewear and accessories.
Order and place themed Gift Cards.
Consider having a Valentine's Day Trunk Show.
Send an Eye Love My Patients Day email campaign--fill it with eye health knowledge and appreciative messages.
Have staff wear Eye Heart Valentine's Day T-shirts.
Have staff wear pink and red clothing and eyewear on Valentine's Day.
Offer Valentine's Day cookies and or chocolate.
Have a Valentine's Day Raffle. Make a Spa Package and have patients put names (and email) in big box. Announce the winner on Valentine's Day.
Consider offering a free Valentine's Day gift with an eye exam on Valentine's Day.
10 Social Media Marketing Tips for Valentine's Day
Ask married couples to post on your practice's Facebook page their secrets to a healthy marriage.
Have a Valentine's Day trivia contest on Facebook.
Have an Eye Boggler contest - how many words can you get out of the word "Valentine"... (minimum of 3 letters) like tine, live, lent.

Have patients share their favorite Valentine's Day story on Facebook or their "how we met" story.

Have patients post pictures of themselves in heart shaped glasses in your practice.

Question and Answer: What is your most romantic song? What is your most romantic evening? Where is your ideal place to celebrate Valentine's Day?

Have patients post their favorite 'Love' tattoos on Facebook.

'Like Us' on Facebook for a chance to win a Romantic Evening.

Other ideas here on Valentine's Day online around the world.